Company News
2022: Regroup, Reflect, Refuel
A year in review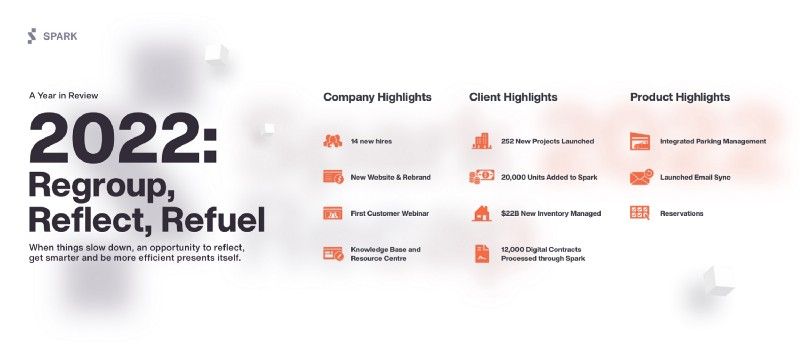 A Year in Review
Carrying the momentum of the previous year, the 2022 real estate market started off hot and by the end of Q1 was swiftly recalibrating. At the height of a market it is easy to get swept up by the current as you tread to keep up with the rate at which it is moving, but when things slow down an opportunity to reflect, get smarter and be more efficient presents itself.
Internally, as a company this is something we've focused on in our own processes, but it also represents the ethos by which we've been building our product for you.
We launched into this year with a slick new website and rebrand, internally referred to as the "new new spark.re", we designed, copy and coded the entire site in house in what amounted to an epic interdepartmental collaborative exercise.
14 new hires joined Spark with our Product and Development teams seeing the largest expansions. Spark sponsored two conferences this year, The Real Deal New York and the South Florida Real Estate Showcase and our Executive, Sales, Product and Development teams attended five others including Future City, Rails Conf, Pendomonium, Blueprint and Traction Conf where we were able to grow our knowledge of the industries we intersect and occupy including technology, real estate, product and Proptech.
Product wise, 2022 saw us launch some of our most powerful features yet. Not only did we launch two major resources for our clients, our Knowledge Base and a new Webinar Series (look out for the announcement of our second instalment soon 👀).
Early in the year we launched our Reservations feature that fully replaces a separate system like Excel or custom built web form, providing full visibility into the reservation activity on your projects. Across the new development industry parking management is a pain point, to combat this, Spark has fully digitized and Integrated Parking Management into our powerful Inventory and Contract tools, allowing you to sell through an already familiar practice.
Final amongst our largest feature releases and upgrades, Spark can now sync and automate monotonous daily communication for your team through Integrated Communication of your inbox. To learn more about the feature releases this year look back through our Q1, Q2 and Q3 Product Highlights.
While the New Development market began moving towards a more sustainable readjustment, 252 new projects were launched and powered by Spark, which included 20,000 new units added to our platform and 12,000 Digital Contracts transacted for a total of $22B of new managed inventory within Spark.
We proudly powered some of the largest and most prestigious projects launched this year including both the St. Regis Residences with Fortune International Group and 888 Brickell with JDS in Miami, Les Bordes Estates in Loire Valley, France, The Humber by Options for Homes in Toronto, The Huron with SERHANT. in Brooklyn and brought on our first clients in Latin America and Mexico. As markets stabilize and we begin to enter into a sort of post pandemic business as usual, the value of regrouping and reflecting after a frenzied up market will fuel us into the next year as we continue to expand our comprehensive suite of products and transform the way new development real estate is sold. A huge thank you to our clients, friends and industry partners — 2023 here we come.
---