Introducing Your Company's Portfolio
Developers often have many projects on the go and need a single place to manage them. To solve this, we're excited to launch our new…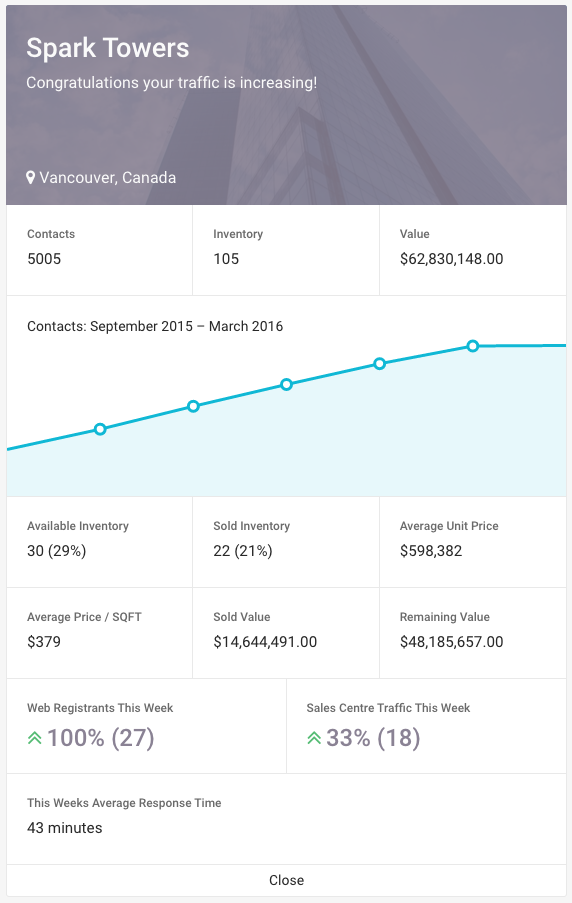 Developers often have many projects on the go and need a single place to manage them. To solve this, we're excited to launch our new company portfolio page!

View Company Level Statistics and Custom Branding
At the top of the portfolio page you will see statistics with values combined from all your projects. This includes contact, registrant and inventory data. You can also start to customize Spark by adding your company's brand colour and logo.
Compare Your Projects Side by Side
Project cards allow for direct comparison of contact, inventory, and traffic data between projects. Measure each project's growth with a graph of all contacts added to your database in the last six months.
At a glance, view how many units are available or sold, and what percentage of your inventory these represent. You can also see the average price of a unit in each project and the average price per square foot. Always know how much you're earning with dollar values for sold and remaining inventory.
Measure Traffic
Stay on top of your project's traffic with the web registrant and sales centre statistics. These show how much traffic you're getting and how it compares to the previous week.
Track Your Team's Average Response Time
You may be getting a lot of registrants, but how quick is your team is getting back to them? Spark tracks the time from a new registrant to their first interaction with someone on your team. This data is then used to display your team's average response time for the week. Compare these times across all your projects to see which sales teams are the most active.
You can find all these features on your company's portfolio page. To access it click Project → Portfolio on the left menu.
---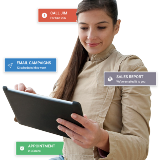 Feel free to email us at support@spark.re with any questions regarding the new features or Spark!