New Designer/Marketer Permission
Spark has just introduced a new permission level: Designer/Marketer! For clients using outside agencies to generate marketing materials…
Spark has just introduced a new permission level: Designer/Marketer! For clients using outside agencies to generate marketing materials, this addition will allow your marketing team to build and modify your email templates in Carpenter, without giving those users access to sensitive information in your database.
Roles and permission levels are usually set up at the beginning of a project, and are rarely modified beyond that. As a result, many users are not entirely aware of how this feature can be used, so we thought we'd take this opportunity to introduce you to the concept more generally.
Roles and Permissions — What Are They?
Roles and permissions work together to define the level of access a user has to your project. A 'Role' is essentially just a name — usually your team member's job title. Each 'Role' has a 'Permission', and the permission is what actually defines how much access a user with that role will have to your project.
Given this, only account owners and project administrators have access to these settings, which can be found under 'Settings > User Roles'.
Spark projects are created with 6 default Roles, which roughly correspond to most of the existing permission levels, but again, a 'Role' is just a name that you can customize to your preferences. For example, if you changed the name of the 'Guest' role to 'Administrator', but didn't change the permission level, users with your 'Administrator' role would still only have guest access to the system.
What Permission Levels are Available?
There are currently 7 available permission levels in Spark: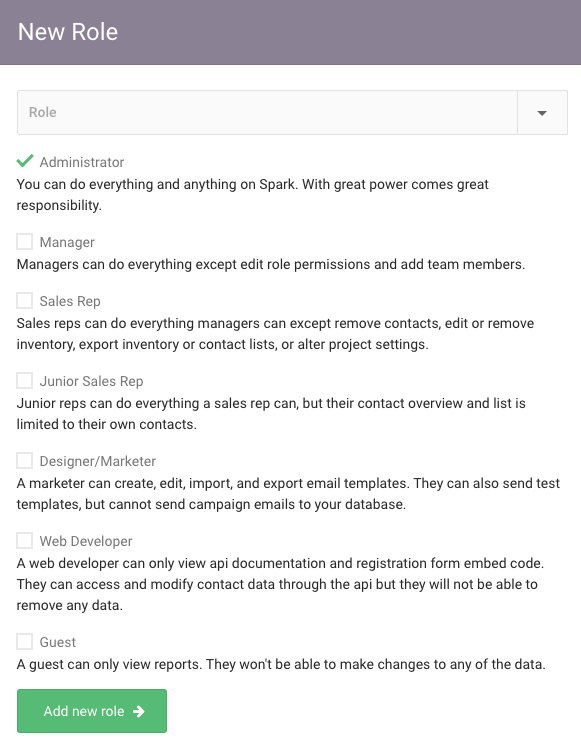 To change the level of permission for any given role, simply tick the box for the appropriate level and save your changes.
If you don't have administrative access, you can refer back to what each of these permission levels entails anytime at help.spark.re .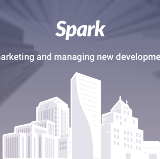 Feel free to email us at support@spark.re with any questions regarding the new features or Spark!