How to Prepare Real Estate Contracts Digitally
Writing (and Completing) Contracts with Spark Preparing real estate contracts can be time-consuming and tedious. That's why we've put focus on making the sales transaction process intuitive and simple with our digital contract workflow.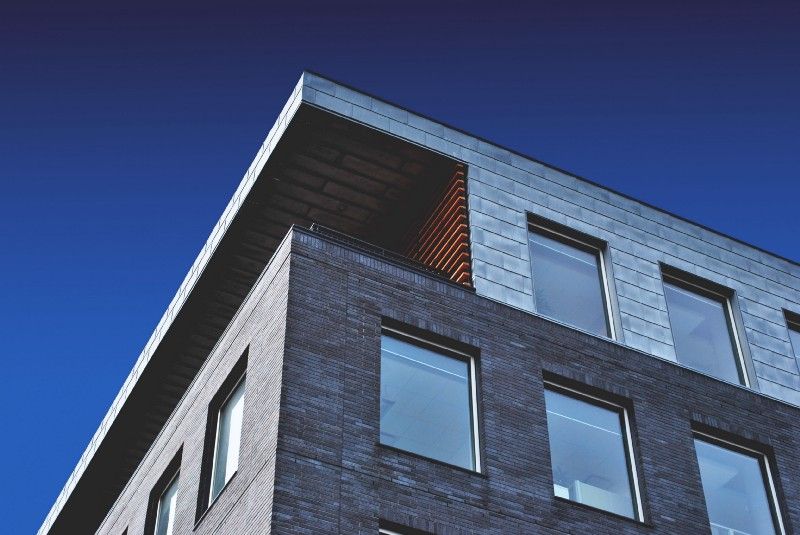 Writing (and Completing) Contracts with Spark
Selling real estate can be messy.
One of the major pain points for many of our clients is managing contracts throughout the signing process. Preparing real estate contracts can be time-consuming and tedious, especially when it comes to multi-unit builds such as condos or planned communities.
At Spark, our goal is to make the sales transaction process clean, efficient, and easy, so we've focused some of our attention in the past few months on adding more flexibility to the conveyancing workflow. By supporting a digital contract preparation process, we allow our users to efficiently create contracts, and have them corrected, amended, and signed without fanfare.
This makes it simple for our users to quickly create their contracts in as many scenarios as possible.
The Rub of Contract Preparation
Imagine this — you're selling a 400 unit multi-family development. Interest in the project is so high that you're expecting to close as many deals as units in a matter of days. Your team is prepared, but at the end of the day, they're drowning in physical paper, and are having trouble keeping track of who's signed what.
How Spark Can Help
No matter what the local real estate market looks like, developers and marketing teams of any scale are all too often lacking a set of tools to manage the signing process effectively.
Through automated PDF writing and DocuSign-integrated electronic signatures, Spark allows teams to manage the entire contract writing process digitally, smoothing over the most difficult parts of preparing inventory for sale. In addition, our easily digestible tracking and reporting tools make it easy for your team to follow the signing progress from beginning to end.
Using a digital contract process is very similar to traditional real estate contract writing. Here are the steps you would take to create and sign a contract in Spark!
Step 1: Create an offer
At this stage, your inventory and contact lead information is already in Spark from pre-sale registration. Your lead generation campaigns, whether that's Facebook, a walk-in, banner ads, or other marketing, should all funnel into the project's database. This creates one master reference database that your team can pull the correct information from.
And because Spark also hosts your inventory data, you can grab the unit information at the same time.
The benefit of preparing real estate contracts digitally with Spark is the capability to generate your contracts dynamically. This begins with a simple process. Using your team's contract template, we map out all the fields that you want to populate with data that you're already tracking.
Creating an offer is as easy as selecting who is purchasing what, and adding any relevant dates, people, options, upgrades and other information as it pertains to your agreement.
Step 2: Make the contract PDF
If you're not using a mapped contract template to populate the offer, at this point you can upload a (signed or unsigned) scan of the agreements you've written out by hand.
But let's assume that you've wisely opted to save yourself the trouble of painstakingly copying out data that you've already entered into the system. Spark's digital real estate contract process makes this next step very simple: all you need to do is click "Write PDF" at the top of the Contract page and select the template you want to populate.

If this is your primary purchase of sale agreement, you will be asked to confirm that the information being written is correct. Once you confirm, it only takes a few moments before you have a fully populated, PDF contract that's ready to send out and be signed.
Step 3: Request signatures
If you are using PDF templates, you'll get the most value out of your digital real estate contracts by coupling that with our in-system DocuSign electronic signature integration.
Instead of sending paper documents back and forth from signatory to signatory, using a digital contract helps maintain the security and integrity of the process without all of the disarray of dealing with pen-and-paper agreements.
Using your PDF contracts together with DocuSign, your team can assign signatories in whatever order your process requires, with both email and in-person signing options for each person. Request signatures for a single file, or for multiple files at once using the Signature Request form. Spark will take care of the rest, by sending out emails one by one to the signatories as they are listed, and sending the contract on to the next person only when the first signatory is finished.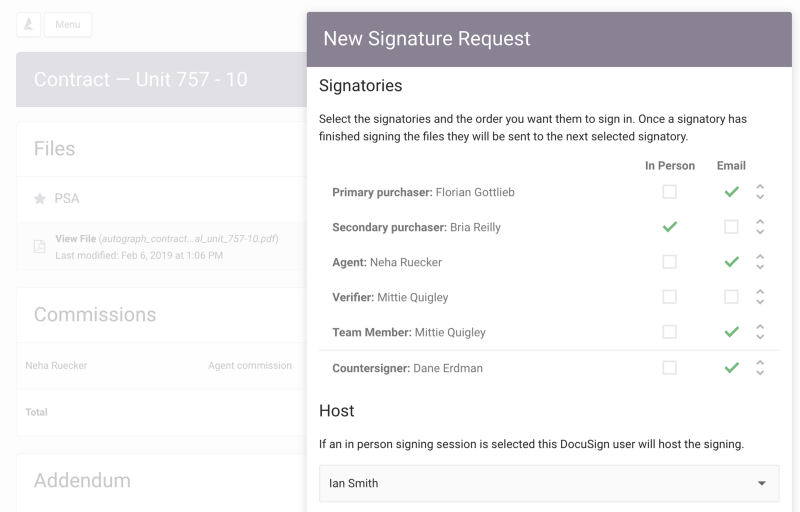 This will allow you to track every step of the signing process, no matter how and by whom it needs to be signed. The platform will automatically send a notification to the user when the signatures are completed, or the file is declined or voided.
Step 4: Sign the contract
In Spark, you can identify contracts that are awaiting signatures by the hourglass tag beside the status. The tag will remain present if any of the files on the contract are not yet signed. At a glance, this lets your team know which contracts are not yet completed, making it easy to do follow-ups as necessary.
You have two options for collecting signatures:
1) Sign By Email
For many, the simplest and most efficient way to sign a contract is by email.
With DocuSign, it's fast, convenient, and secure. Signatories who have elected to sign by email will receive a link from your team's DocuSign account that leads them through a simple step-by-step process. The program prompts signatories to place a signature everywhere that you've noted one is required, making sure that you won't have to send it back to them for additional signatures.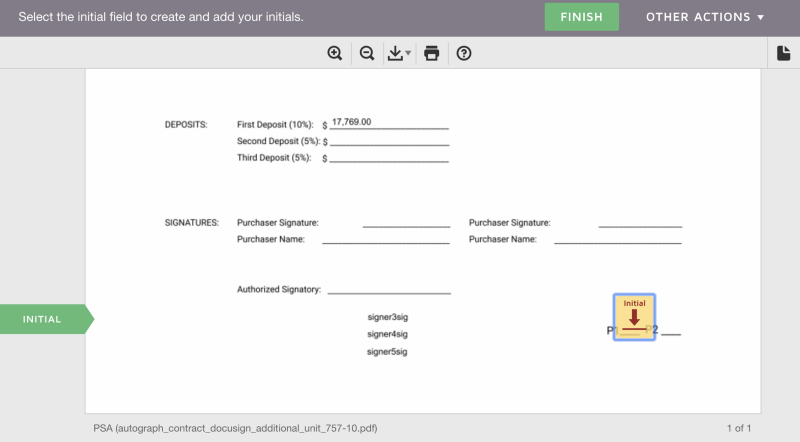 Once they have completed their signing, the document will be sent to the next signatory and the status will be updated in Spark.
2) Sign In-Person
Email signing is not always feasible for every client and situation, so we also provide the option to host an in-person signing session.
Using a computer or tablet, the agent present should open a Spark session and go to the contract file that needs to be signed. The contract file should be assigned to that agent, who is "Hosting" the session, to allow them to input in-person signatures.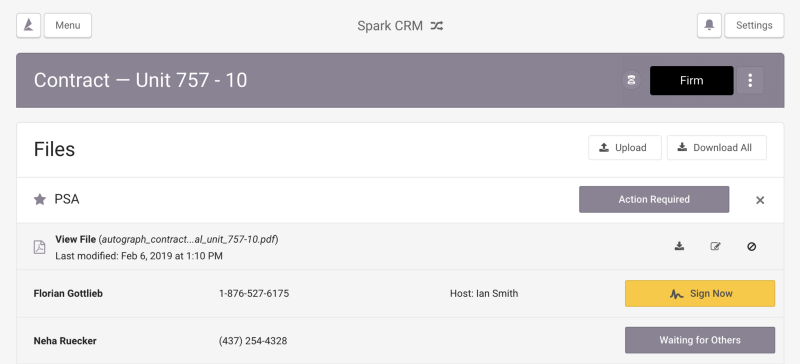 When the host clicks "Sign Now" beside the signatory's name on the relevant file, a DocuSign tab will open. At this point, the signatory can take over and sign the document—they will be led through the same signing process as those who have opted to sign by email.
If there are more in-person signatories who need to sign, the host just needs to repeat this process!
This method enables everyone signing the contract to do so in whatever manner they are most comfortable, but maintains the security and integrity of digital signatures throughout the lifecycle of the agreement.
Step 5: Whoops!
Mistakes happen.
If you run into a hiccup at any point before the contract signing is complete, not to worry — you can void the document and send an email explaining the reason to anyone who had already received the files, allowing your team to keep their buyers in the loop.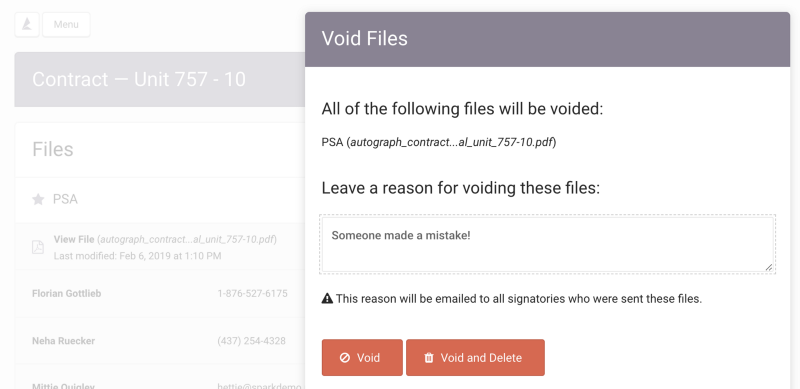 Step 6: Contract complete—now wash and repeat!
It's crunch time and the sales centre is packed. With your digital contract writing platform, new contracts are practically writing themselves. The ones you sent out for signing are automatically moving through the list of signatories you set.
All of this frees up your team to tend to their clients, and build better relationships along the way.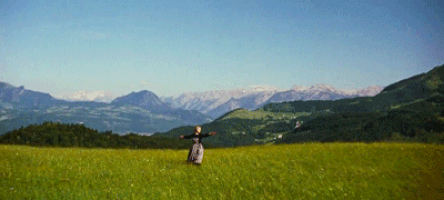 ---
This is a simplified version of completing a real estate contract — conveyancing isn't easy. But with tools and technology like Spark's PDF contract generator and DocuSign electronic signatures, you can alleviate some of the burden of data entry and paper pushing, and give that time back to the team, so they can focus on the things that matter.
If you have any questions about integrating new processes into your contract workflow, please reach out and chat with us! Our team of real estate experts is happy to advise.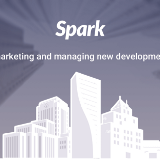 If you found this article helpful, leave us some applause!