Product Updates
Product Highlights: Q3 2022 Edition
Integrated email communication, conveyancing enhancements and a preview of our upcoming Document Portal feature.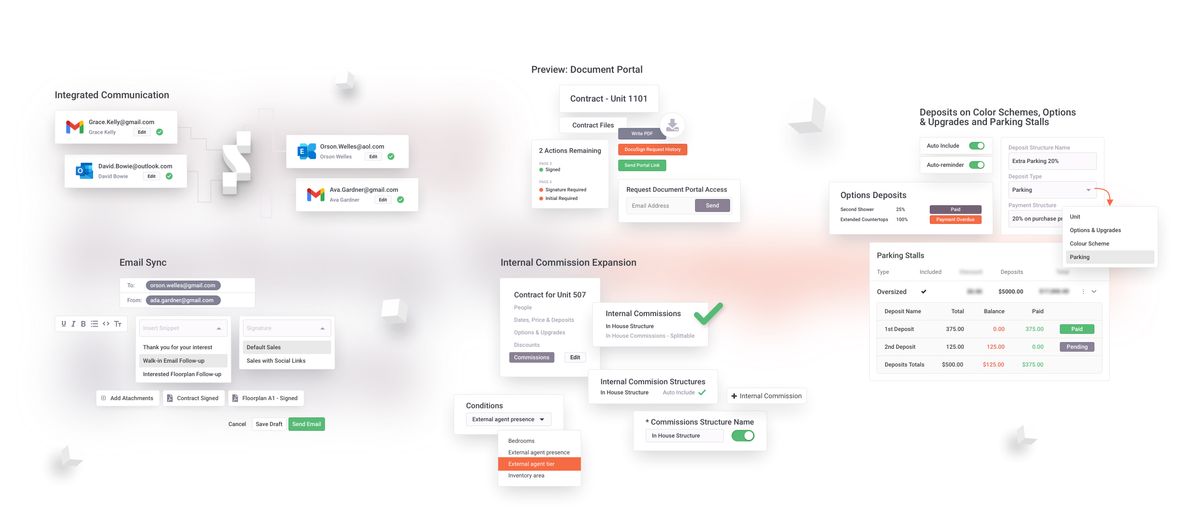 Integrated email communication, conveyancing enhancements and a preview of our upcoming Document Portal feature.
From July to September our Product and Development teams were dedicated to enhancing Spark's integrated Email Sync feature, expanding our Internal Commissions structure as well as improving our robust Parking Management feature.
These optimizations will have a great impact for all our users including, Administrators, Conveyancers, Managers and Sales Reps, allowing each role to further centralize important communications within Spark, add internal commissions structures into their contract stepped process and track contract add-on deposits as their own entities within the contract record.
Read through for more information on each feature improvement we deployed in Q3 as well as a sneak peek of an exciting upcoming release: Document Portal.
Don't forget to register for our upcoming Integrated Parking Management Webinar to learn how this powerful tool streamlines your teams internal processes and removes opportunity for error.
Integrated Communication
Spark can sync and automate monotonous daily communication for your team.
Integrate your email with Spark and get instant contact tracking and predefined responses. Streamline your sales team workflow across a single development or multiple projects.
Sync Outlook, Gmail, Exchange and many more with IMAP
Everything you are used to doing in your Inbox is now available in Spark
Automated Interaction tracking
Easy-to-use response snippets
Shared email Inboxes
Customized Email Signature
Internal Commission Expansion
Commissions payable to your hard working in-house teams is just as important as external brokers. By expanding our internal commissions module, Project Administrators and Conveyancing Teams are able to get the full financial picture when reconciling payments to both parties.
We understand this information is sensitive, so we've updated permission visibility settings to allow you to choose who on your project can edit and view internal commissions. We also know conveyancing teams get many questions around payment timelines and amounts, so Sales Reps with the Internal Agent designation can view their specific commission entitlement on a project.
Project Administrators and Conveyancing Teams can proactively set internal commission structures to auto-include, eliminating manual entry after contract creation. Permitted permission roles can set conditional rules on each internal commission structure to auto-include based on contract information. For example, your in-house team may be entitled to different rates based on whether or not external agents are associated to a deal. With our new conditional system at the structure level, you can set this up in addition to unit size or bedroom count.
Deposits on Color Schemes, Options & Upgrades, Parking Stalls
As our clients build diverse projects across the globe, we understand purchasers may have the flexibility to customize their home. Often times, customization comes at a cost which is why Spark supports alternative deposit types.
When setting up unit deposits, you can now add additional structures specifically for options & upgrades, parking and colour schemes. All the same functionality of payment amounts and payment terms apply to said contract add-ons, with all information summarized on contract.

Conveyancing teams can navigate to our robust deposit list to filter by deposit type, centralizing information making reconciliation simpler.
Preview: Document Portal
In the new development space, homeowners are often subject to 1–4 year build of their new home — a lot can change from the time their contract is signed to when they need to start to prepare for the closing process, which is why self-serve access to important contract documents is essential.
With Spark's document portal, homeowners can access the disclosure statement, sign amendments and view/download contract documents at any time, dramatically reducing administrative overhead for developers, marketing teams and brokerages.
We took it one step further by integrating e-signature technology into our Disclosure & Amendment feature, allowing homeowners to sign important amendments through the portal. Multiple signers can access amendment receipts at any time through a unique link — not locked by a sequential signing order like DocuSign.

Learn how top North American developers sell out projects with Spark by contacting hello@spark.re
---