Spark Spotlight: Elva Kim
Q&A with EVP of Sales & Marketing, Anthem Properties, Elva Kim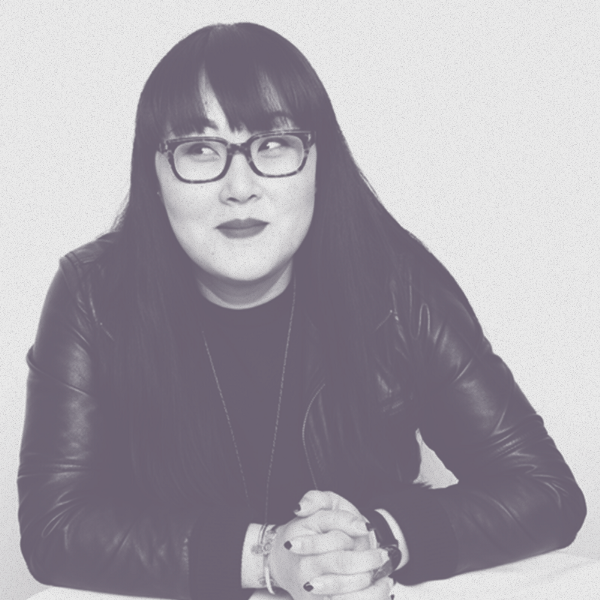 Q&A with the EVP of Sales & Marketing, Anthem Properties
The team at Spark and Elva 'sat down' for a candid virtual conversion where she shared some of the experiences that have shaped her career.
We particularly admired Elva's engaging outlook on building dynamic relationships and her genuine passion for the communities she's involved in shaping thanks to her prowess in the industry.
---
Q: Can you tell us a bit about how you got your start in the industry?
It was by accident. I finished school and I had a big fat student loan that I needed to pay off. I graduated in Social Sciences in Psychology. I used to work with group home kids and children in the Ministry of Children and Family Services. When I graduated it was off the heels of a new election. Government switched hands, and the programs I was working in went under and shut down. A friend of mine worked for a local developer and offered me a temp job. I fell into it by accident, covered the phones. I was a shitty receptionist. Sent faxes upside down and blank. I couldn't work a switchboard phone, got everyone's lines wrong. The Sales and Marketing VP at the time asked me if I spoke another language, which was "poor Korean at best." But he gave me a few hundred dollars to get a suit. I ran up to Robson, hit up Zara, and was plopped into a Britco trailer at a development site in Burnaby and that's how it all started.
I started out on the floor, as a Sales Coordinator/Assistant and worked my way up in the sales arena. At that time, it just felt like a j.o.b. I was young, I was paying my bills. I wanted to pay down my student loan. The market took off and the developer I was working for had projects across Burnaby and Coquitlam — everything from townhomes, woodframe condos and concrete highrises — this gave me exposure to diverse types of new market housing, to different segments of the market, and firsthand experience in understanding how people valued space, location, community and timing in different cycles of their life. It was a definitive launch pad. But my first point of entry was as a shitty temp receptionist at Ledingham McAllister.
Q: Can you share a defining moment in your career that shaped you today? Perhaps a moment where it took great courage to suggest innovation, cause a shift in status quo or effect a positive change?
It is certainly not one I had planned. I don't know if most people start out like this, but I had no plan. So, if somebody had told me 19 or 20 years ago that this is the job that I would have now, I would have most likely said, there is no fucking way, and no thank you. But thank you very much.
But when I think back to "career defining moments," I didn't know that it was a career defining moment. In the moment, 10 years ago, I was just doing my job, and working hard it. It was 2009, and the market had bottomed out. It was a really, really challenging time to push any sort of real estate, especially new home sales. The concrete presale market was basically dormant, and everything else was just a slog to get across the finish line, sold out or closed out. Everything that had presold back in 2005–2007 was completing. The bank had pulled back on the rate holds, and people weren't getting the financing they needed to complete on their deal. There was no market to do really any sort of assignments and so that mid-range investor, who have bought one, two, or three pre-sales to flip were stuck.
I got called to come back to one of the development companies that I had spent quite a few years with and returned to help with their closings. So, it was me, a litigator from a great law firm and a small incredible team. Selling in a hot market was one thing, trying to reclose sales in a flat market was an entirely different experience.
I had no idea that what I was doing would have the significant impact it did, not until we crossed the finish line. Looking back years later, it was just hand to hand combat, working with these people to help them get across the finish line, helping them find financing, and sourcing different, creative solutions to help them honor their contractual obligation.
Being a part of that experience, finishing up in 2010, was one of those pivotal moments that I look back on now. I'm glad I took that opportunity, because it was so outside of what I knew how to do. Being open and receptive to different opportunities has gotten me where I am today.
13 months later, we had closed out three buildings in Greater Vancouver and Kelowna, at a really challenging time, with success. So that was good. The outcome was such that it removed the risk and concern for the Developer so they could go on to grow. It was a critical time for many in the Industry. The experience in working hard together, through something substantially challenging, was mutually rewarding.
In the moment, if I had understood how daunting the task was, the pressure may have been enough to walk away. But I'm glad to have been a part of it, and grateful it's part of my story.
Q: What advice would you give to the next generation of female leaders who are determined to effect change? What's one leadership lesson you've learned in your career?
The advice and counsel that I would give to the next up and coming gen, which have been taught to and shared with me by other remarkable women, is to know who your champions are.
No one can do everything alone. No one ever does. Know who your champions are and know how to show up. I'm not sure if this is still the case, but for anyone looking for a mentor, or for someone to take them "under their wing," you have to lean into it. It's not just about presenting well. It's more about being real, open, and vulnerable — about the challenges you are facing so that your champions can really help. That way you get the guidance and perspective you're really seeking. And be open for the truth. It's not always pretty. Being an adult doesn't award you ribbons just for coming out.
And when you've made it a step or two ahead, pay it forward. That chain will become a self-sustaining model of support, whether you're a woman or a man, young or old. It really shouldn't matter. It's just about engaging and participating in a positive supportive network.
And one more thing. Don't question your value. Know the market for your role. Understand what value you bring. But don't question your value. The worst thing anyone is going to tell you is "no." And if they do, the choices are still yours to make.
Q: What has driven your motivation to be, and stay, in the new development real estate industry?
Progress. It takes time. And for me, it seldom feels like the same day twice. It's less about the grind, and more about juggling different initiatives. The pursuits, the learnings, the achievements, and the journey along the way. We've also experienced a lot of growth over the past few years at Anthem. On a bad day, I feel like I'm tied outside of the rocket ship. On a good day, I'm strapped inside. In both cases, everything is always moving quickly, and it's almost always a good time.
I'm motivated by the work and inspired by the people.
I'm into what we do. Directly and indirectly we impact how people engage and relate to space -from residential, to commercial to land. Actualizing a vision, working with a team, over years, is really rewarding. Positioning, designing, developing, building and in some cases managing the space for people in the communities we build is a big deal. It's personal.
And I'm really into the people. The exposure to the people I get to work with and those on my own respective teams at Anthem, that's the juice.
They're awesome. Every company has their own corporate brand persona. The people from some companies have a common look and tone. You know, like how sometimes a dog resembles their owner. Dark suits. Tight pants. Shiny shoes and fancy socks… What I appreciate the most about the culture here, is that everyone is different, and that diversity is part of the uniform. Everyone is empowered to be their most authentic selves, bring their 'A' game and be informal. It's a motley crew. And as an organization there's as much value placed on being a good human, as there is on doing good work.
I'm lucky. I've worked at some great companies over the years. My path and come up has landed me at a place that has supported my growth and welcomed diversity.
Q: What excites you about the future of Real Estate and the market?
The market
With respect to the market, it's happening now — more in some of our markets than in others. Activity across all markets and assets are on an upward trajectory. And locally the fundamentals of what makes Greater Vancouver desirable has never wavered. The local market is strong and very active right now, and once everyone gets their vaccine and it's a safer place to be, more open, together, and closer, we will see immigration stimulate and compound that activity.
The work
Evolving product design and programming. How people engage with space and each other is changing. Staying on top of how people live their lives, understanding what they value most and meeting those expectations. Having a positive impact. And enjoying the experience getting there.
Local
It would be great to see different organizations and people come together as a collective, across different municipalities and with government, to address what's happening to the DTES. Where social responsibility meets strong leadership, and core issues that are impacting our city and our people become more about doing the right thing over the need to be right. It's a human issue rather than a political one. I'm excited about future progress for the common good.
Personal
I can't wait to get on a plane. I'm grateful we get to live where we do. It's great, and we have access to all the essential and non-essential luxuries, with a beautiful backdrop. But the day I can hop on a plane, travel, wander around some random place, eat foreign food, be in a different time zone — cannot come fast enough.
---
Loved this story and want to read more? Check out the other incredible women featured in our blog: Influential Women in Canadian New Development Real Estate.
---
Elva Kim is the Executive Vice President of Sales and Marketing at Anthem Properties. She leads a dedicated team of 80 sales, marketing and homeowner care professionals, who together, bring Anthem's extensive portfolio of residential and land communities in British Columbia, Alberta and California through their project life cycles. As a leading member of Anthem's Communications and Giving teams, Elva is responsible for Anthem's outreach programs and brand management, ensuring the organization's character and values are accurately reflected. She is passionate about her community and serves as Vice Chair on the Board of Directors for Atira Women's Resource Society, Development Society and Property Management Society.
Elva holds a Bachelor of Science in Psychology and received her real estate education from University of British Columbia's Sauder School of Business.
Founded in 1991, Anthem is an integrated team of 400 people, driven by creativity, passion and direct communication. Alone or in partnership, Anthem has developed or managed more than 270 residential, commercial and retail. Anthem purchased United Communities in 2014, and together, Anthem and Anthem United, with their respective financial partners, have a portfolio that includes more than 15,000 homes built, in design or under construction, more than 8 million square feet of commercial real estate space and 6,100 acres of land across western North America.
---