The Real Estate Guy

A few months ago, my team and I were invited to attend and speak at Engel & Völkers Americas annual conference, EVX, where I had the pleasure of meeting Stuart Siegel. Not only is Stuart the Chief Strategy Officer of Engel & Völkers Americas, the Global Head of Engel & Völkers Private Office and Development Services, and President & CEO of Engel & Völkers New York City, but he is a legend in this industry.
I was thrilled when he agreed to participate in our Spotlight Series and wanted to take this opportunity to have an informal conversation about his career and pick his brain about the industry, the market and, of course, technology. We spoke for over an hour and I, and my team who sat in on the call, signed off feeling awed, inspired and energized.
One thing I have come to admire greatly about Stuart is his wit and humility. To kick off our conversation I did a brief intro going over his titles and accomplishments and asked if there was something I missed to which he warmly replied "Grandfather to an 18 month old."
I loved this for a few reasons and it was something that came up later in our conversation when I asked if there is something he wished people knew about him but no one ever asked to which he replied "How did I survive bringing up 3 daughters?," and went on to share stories of how proud he is to have raised three strong, accomplished women, what each of them is doing now and how meaningful his family unit is to him. I was so glad he brought this up – not often enough do these types of conversations include mention of family, the personal side that is the foundation for your success and career, it is always "what critical moments in your career shaped you?," but I strongly believe they are deeply connected.
Career
"Well we are going to talk about my favourite topic: me"
Stuart is a fantastic story teller, especially when it comes to things he is passionate about. As we began discussing how he got his start in the industry and how he got to this point in his career, I asked for the version that we couldn't find in a Google search. Stuart began by recalling his start and tenure developing Sotheby's International Realty, "The idea of how I got started is, I think, really interesting. Basically right out of graduate school, Sotheby's as an auction company was getting a lot of press and visibility because it was a 250 year old brand seeking to break out of a very narrow market."
Stuart explained, Sotheby's was a legacy brand that catered to multi-generations of families who did business with them, but that was not going to be enough to take them through the next 250 years. "I, with a group of others, had an idea, being young and brash business school grads, that perhaps what the brand really needed was what we ended up referring to as 'elasticizing the brand'.
He went on explaining, "How do you take a brand that is one thing, selling these incredible works of art, and extend it into other appropriate businesses with the common denominator being the client? The concept back in those days was that the same people who bought and sold art at auction were exactly the same individuals who lived in, bought, sold and invested in larger, more architecturally interesting or significant homes around the world. So a team of us, including real estate legends like Clark Halstead, built a luxury brokerage business."
In total, Stuart spent 25 years at Sotheby's International Realty, 15 of them as CEO, "We built Sotheby's Real Estate and by the time we sold it to Realogy, we were one of the largest real estate brokerages in America." After the sale, Stuart worked with Realogy for a couple of years and left after being recruited by the Ferragamo family who were interested in how they could extend their brand into resorts and destination hospitality as a way to complement the fashion side of the business.
"Michael Ainslie, the former President and CEO of Sotheby's Holdings, introduced me to the Ferragamo's. The idea was that we were going to develop Ferragamo branded destination resorts, potentially branded real estate, starting with an extraordinary project called
Castiglion del Bosco
, which is now a
Rosewood Hotel
in Tuscany."
This would become Stuart's first "Foray in turning a brand building exercise into a real estate development on the ownership side." After the completion of Castiglion del Bosco, he went on to do an array of advisory consignments with architectural planning firm, Hart Howerton, the leaders in 6-star luxury hospitality, land and resort development. "That is how I really got launched into the development space." While still serving as a senior advisor with Hart Howerton, Stuart also became the Chief Real Estate Officer of the publicly traded Swiss real estate company, Orascom Development Holdings.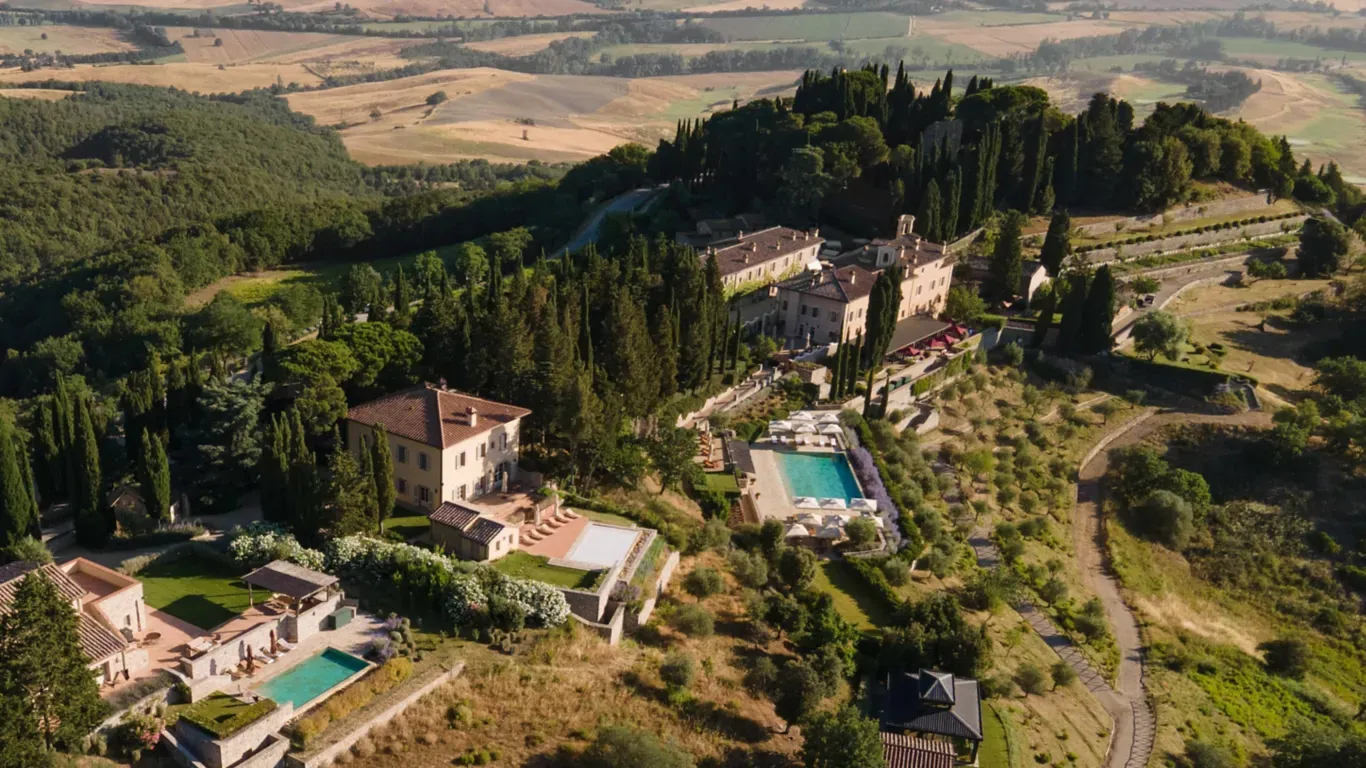 With Orascom, Stuart worked on a massive project called Andermatt. Andermatt, a Swiss village with an underground city that could house 15,000 people in the event that a war broke out, was where the Swiss military trained their mountain troops. "Talk about marketing, when we talked about doing this project and were doing blind focus group surveys, everybody said 'Ugh, Andermatt, never!'" Because it had a reputation for always being dark and having terrible food, but that was because it was used for military service! We converted this mountain town and former military base into a luxury destination anchored by a 6-star Chedi hotel, with 125 rooms and 80 branded residences."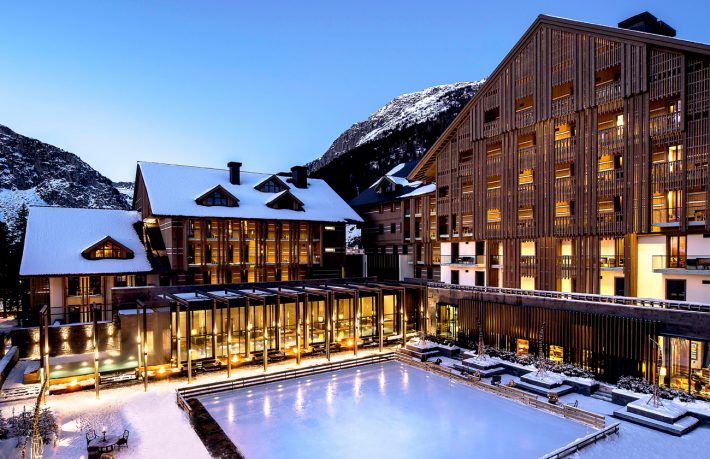 It was at this time, Stuart reconnected with Christian Völkers, whom he had been first introduced to early in his career at Sotheby's, "We hired Engel & Völkers out of Lucerne to do our pre-development advisory and then our onsite sales and marketing almost 15 years after Sotheby's was sold."
Engel & Völkers
"We took a lot of lessons from our peers in the industry and what I wanted to do was not compete with our franchisees"
Their next encounter, the one which led Stuart to joining Engel & Völkers, is one of American real estate lore. "I then ran into Christian on Thanksgiving in 2014. My wife and I were walking around Columbus Circle and she turned to me and said that she thought someone was following us. I turned around and it was Christian! Under the guidance of Americas CEO Anthony Hitt, he had successfully launched Engel & Völkers in America, and now wanted to own and operate a direct brokerage in New York. I was hired to launch that business and work with the Americas senior leadership team to look at other strategies we could implement to create more brand stickiness in the U.S. and Canada."
In 2014 Stuart joined (and still operates) as President & CEO of Engel & Völkers New York City, growing the brokerage to specialize in premium residential property that catered to a local and global client base. Stuart's next assignment was leading the Private Office, which was established to serve the singular requirements of clients with high-value and often multi-market real estate portfolios. Stuart shared that the two things that really make Engel & Völkers unique from other firms is their Global Private Office and Development Services designations.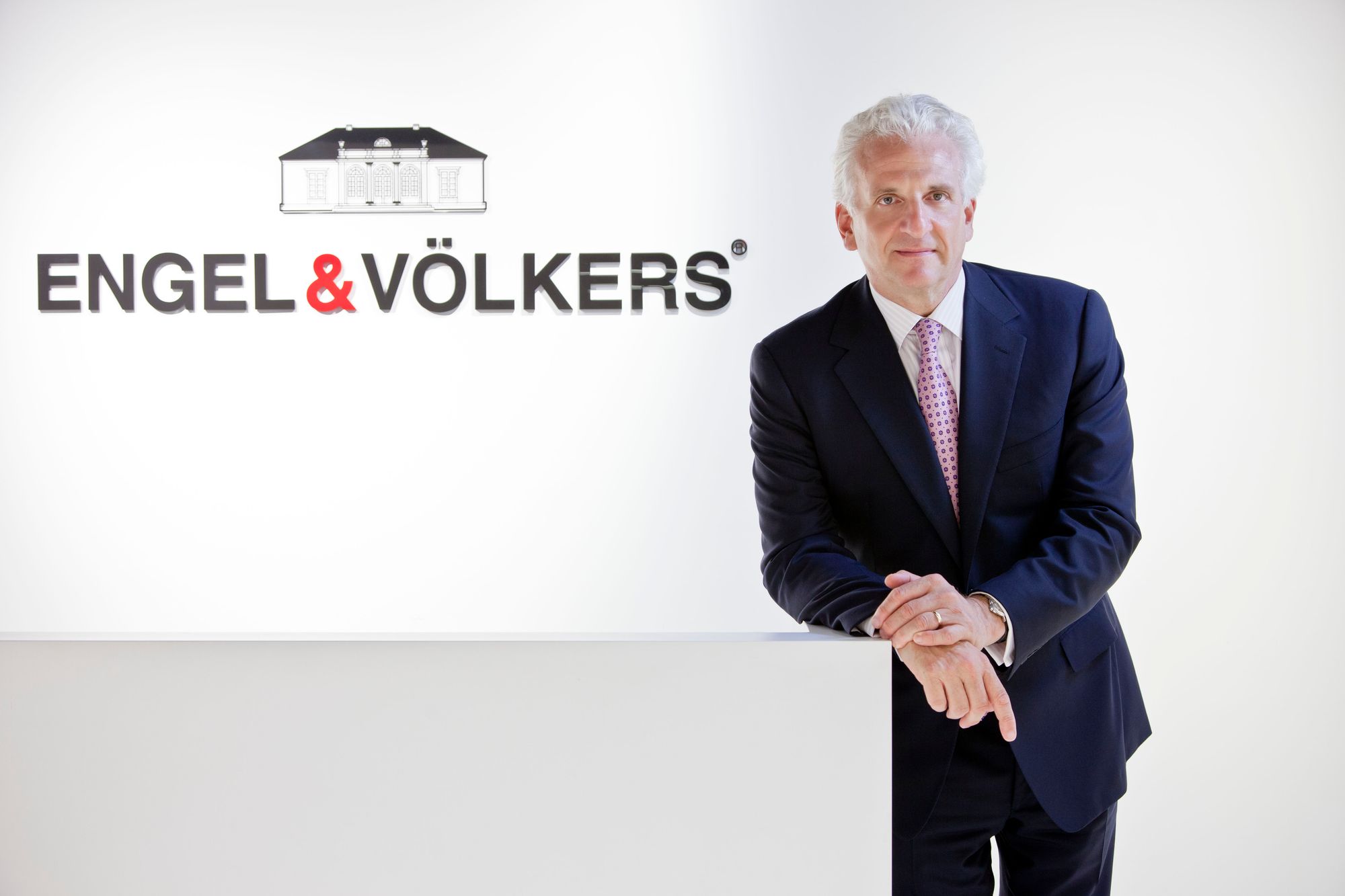 Relating to the Private Office, Stuart explained, "It accounts for less than 2% of over 16,000 Engel & Völkers sales people worldwide. This means they effectively have their own platform, they are their own internal community, they have their own technology platform and way of communicating. We host events for them and it is a way the very top sales people, dealing with our top clients, can feel that they are part of a peer group. To join Private Office an advisor must submit client recommendations, sales volume and a six page application. We review applications twice a year and either you are or you aren't admitted. Assembling and empowering such a qualified group is one way to retain top sales people."
The second, Engel & Völkers' Development Services is a dedicated division established specifically to support the distinct needs of builders, developers and investor partners around the world. Stuart shared, "Globally, we now have Engel & Völkers Development Services run out of Hamburg, New York and London. We provide a complete range of services from site selection and analysis all the way up to sales, marketing and repositioning. We can parachute in to support the local licensed partner at any step in the development cycle."
He further explained, "Coming from the development world — from the actual capital source, the property owner, investor — I knew that resale brokers were not really equipped to handle new development sales and marketing and certainly not pre-development analysis and advisory. We took a lot of lessons from our peers in the industry and what I wanted to do was not compete with our franchisees, but empower them. Work alongside them and give them access to resources and expertise that amplifies what they do, because they are the local boots on the ground."
"Our whole mantra is we don't want to compete with you. Development Services is a designation with Engel & Völkers, our franchisees pay to be part of the platform because we want them to be vested. They get up to 5 sales people with one membership who can go through the training, get access to all the tools, materials, and consulting support available through the Development Services platform. It is a very nimble approach, tailored to the level of experience and resources the local teams have. And that is really what is different."
At this point in the interview I joked "When is the book coming!" But truly, Stuart is an incredible story teller and his career has been remarkable, there are so many insights and experiences he so generously shared it was difficult to trim any of his anecdotes out.
Now, caught up on his career to present day, he proudly shared "The latest numbers –we are working on nearly 400 projects in 20 countries right now under the moniker of Development Services."
Market Insights
"It is a very opportunity specific market"
Because of his rich and diverse experience, Stuart possesses a deep understanding of global and luxury markets giving him a unique lens through which he can observe the market and historical trends as a whole. I commented that as everyone is looking at the market right now, many of whom, having not been through the cycle as many times, might be unsure where it is going and asked how this particular lens impacts his view on today's market conditions.
"I'm really glad you didn't pose the question as what does my crystal ball tell me. My crystal ball, just like everybody else's, is very very foggy."
Stuart went on to explain, "What I'm basically seeing right now is - the British have a great term, and this is not  inappropriate, called "tooth sucking" and I think that is where the market is. It is a very opportunity specific market."
He offered "A couple of random observations," explaining, "1. There is a ton of dry capital on the sidelines — it is amazing the amount of capital that is waiting to be deployed and 2. We've been hearing recession, recession, recession is coming but I think what we have is a real estate recession, not a macroeconomic recession. Recessions in real estate are also fuelled by buyers' perceptions and the related  inactivity of the market, paralysis really. Consumers can't make the decision."
Speaking to trends that are affecting the development industry, Stuart observed, "That the silver tsunami, those North of 50 years old are healthier, fitter and more inclined to work longer now that remote work is an option, are a major force driving real estate decisions." He also observed that the equation of value to price is causing anxiety for buyers in regards to the major luxury developments that have come to market in recent years, summarizing this by stating, "Because of this I am not sure how quickly developers are going to rush to build another commodity luxury building."
"The other part," Stuart continued, "is the generational wealth transfer. It is astounding how much people are going to have liquidity. It is a level of buying power that is historically disproportionate to your age or disproportionate to the type of property you own. Meaning, when this transfer occurs you will have the ability to buy what could have been your third home as your first. Post WWII, home was pretty static, you didn't trade. Now, we have a higher degree of velocity."
After these incredible insights I was honestly not prepared for what he was about to say next. Stuart explained, "The last point I am thinking about is," he paused, for dramatic effect, "and I am a luxury brand guy, is the value of hospitality brands in real estate."
"In all candour, I think that the myth can be greater than the reality.  The value really comes in for locations that can't support themselves, those needing that added layer of affirmation for the buyer."
If you need a minute to recover, it's ok, I did too. But, this is why I love having these discussions with people who are authorities in their expertise and why these conversations are so important.
Stuart continued, "We are working with developers a lot and have a really interesting model to consider 'What is the the all-encompassing benefit of the brand over the 10 or 15 year investment cycle vs. building the brand yourself?' Some things, like an ability to connect with their client base, can really impact that equation, but is that being offered? How collaborative is their team?"
"You're talking to a real estate guy who has a pretty good resume of brand experience"
He continued with something I think is really pivotal, reminding us of the lens he views everything through, "And notice I said a 'real estate guy,' that is how I look at anything. I look at it through the lens of: how good is the location, how good are the bricks and mortar and how much has the product filled a gap in the market or is it trying to create what is reasonably perceived as a future gap or need in the market?"
"That goes to my other assumption, if you have a strong location, strong architecture and you know there is a gap in the market that you are addressing, how much do you really need that other brand? What value add are they introducing to the project? That other brand is going to be expensive."
In a final musing on the idea of brands and their relationship to the industry of real estate, Stuart shared, "Another thing in relation to trends in development is size and the idea of authentic experiences, that is what the consumer wants. Brands, even my brand, don't always play the leading role in the local experience, because we don't have the one-to-one relationship."
It is a fine balance between the personal reputation of an agent and the overarching brand of the enterprise, "We deal with this day in and day out with salespeople. A top salesperson's relationships and track record can out value anything else, and my job is to know when to get out of their way and when to suggest they lean into our global brand equity."
Technology
"We are very desirous of looking at technology as a way to grow the enterprise level"
Trends and brands are a topic we could have continued discussing for days, and one I suspect you could as well if you have made it this far, but it was time to turn the conversation towards my domain: technology.
Something I really admire about Engel & Völkers is the openness with which they develop, seek out and employ technology as a company. It is a tired narrative that the real estate industry is antiquated and slow to adopt technology but I noted to Stuart that the industry as a whole has made great strides in the last few years at adaptation and asked what his perspective was on how and where technology is actually making an impact, particularly in the new development space.
His response is (expectedly) thoughtful, "When you ask about technology there are two ways to look at it: consumer facing technology, what is going to affect the consumer experience, and backend technology. What makes me as an investor/business owner/operator, and what makes the people that work for me, better?" Jokingly reminding us again that "I'm a real estate guy," he continued, "I know this sector of the market, I know where my brand resides and I know what my core revenue is: listing homes and getting those homes sold."
"I'm old school. Anything that enhances the selling and buying process, that takes doubt out of the buying equation, that is the technology that has value."
Inevitably, a conversation about technology, especially technology for real estate will veer towards data. Speaking to the relationship he has with the Private Equity firm, Permira, that has invested in Engel & Völkers and their shared goals, Stuart expressed, "We are very desirous of looking at technology as a way to grow the enterprise level. We're really interested in understanding community data, understanding not only census data, but real estate market behaviour and other local trends and statistics. Who's moving where? How is a franchisee and their advisors performing in the market? Those are the kinds of things that we are looking to have technology help us with, from the ownership side."
Conclusion
I always like to end an interview on a fun question, not that data and technology aren't enjoyable of course, but sometimes it's nice to bring a little bit of fantasy into it, so I asked Stuart if he could live in any new development project in the world, which would it be? And his response was, of course, perfect:
"That is like having to choose a favourite kid! And the answer to that is what day of the week, what week of the month, what month of the year, who has been nice to you for the last 24 hours?"
After a laugh, he finally relented, "It comes down to the first project I did - Castiglion del Bosco because I learned so much and had such a great opportunity to cut my teeth in the development world. It incorporates everything that I enjoy: great design and history, a great family to work for, a lot of discretion left to me to drive decisions and the ability to drink and taste wine at 7am and actually say it was for work. It's extraordinary and that was a really fun project to learn even more about development and while knowing you will never get another one like it."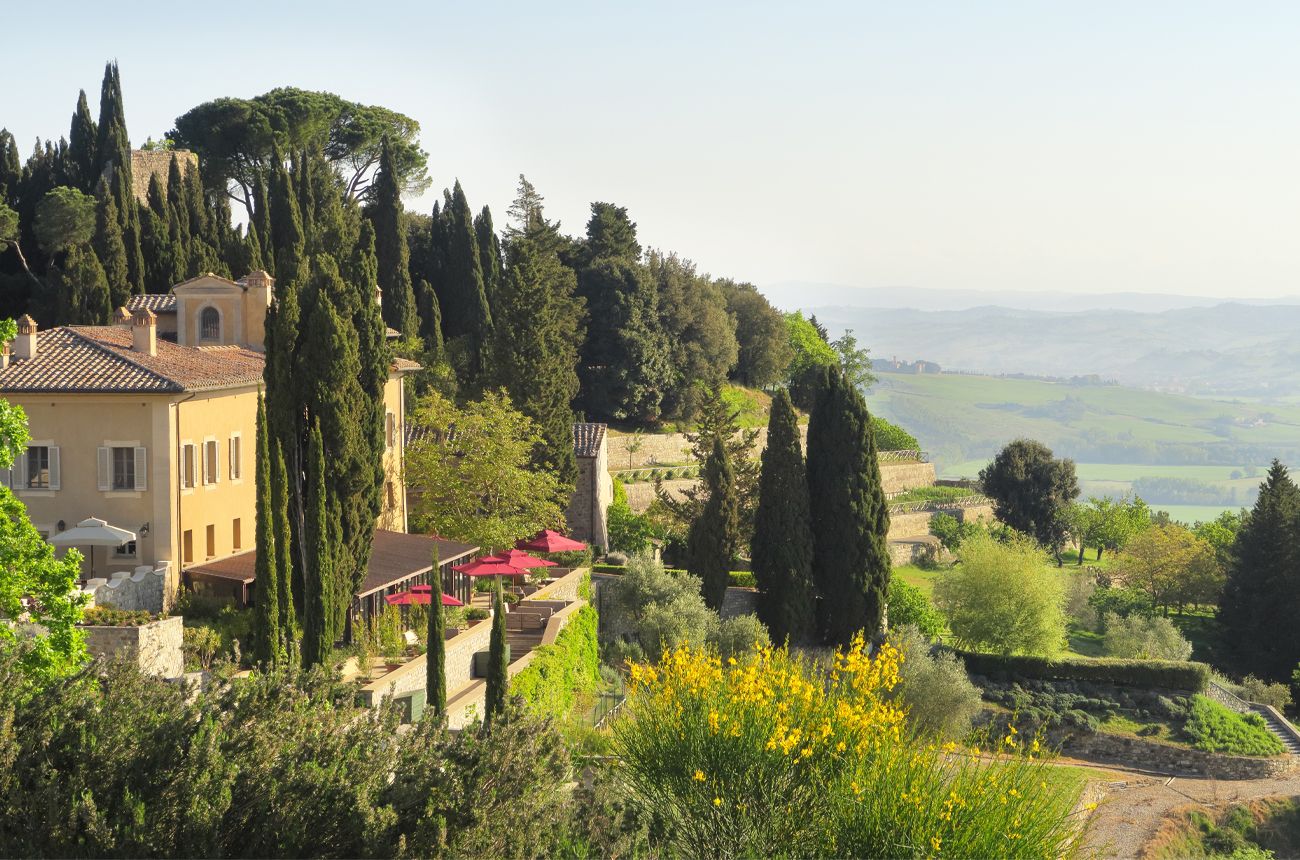 ---