Miami Heat: 10 Red Hot Projects from the 305
A little over a year ago, when the world more or less shut down, it was hard to predict how the real estate market would fare. However…

Miami Heat: 9 Hot Projects from the 305
A little over a year ago, when the world more or less shut down, it was hard to predict how the real estate market would fare. However, research by Million Acre reveals that new home sales across the United States are up 22% over the previous year and few markets are as hot as those along Florida's South East Coast, particularly Miami's.
The fire behind the Miami market is not in itself new — Miami has seen 109 consecutive months of appreciation — but it has been further stoked by a heady combination of low property taxes, no state income tax and a influx of buyers from Northern states desperate to escape high density centres, seeking favourable weather and who now, because of the Covid-19 pandemic, have the ability to work remotely from wherever they like.
While the market as a whole is fevered, it is the luxury condo market that is seeing the greatest interest from buyers. According to the One Sotheby's Market Trend Report for March 2021, not only did "luxury condos segment priced greater than $5 million outpace the broader market", but the "average condo price [in Miami] increased by more that 15% while the median price increased by 7%," as buyers in this market are interested in homes that reside in upscale ocean front developments that offer the amenities of a high-end resort.
Below is a list of 9 of the most exciting developments for sale in 2021.
---
Arte Surfside Condos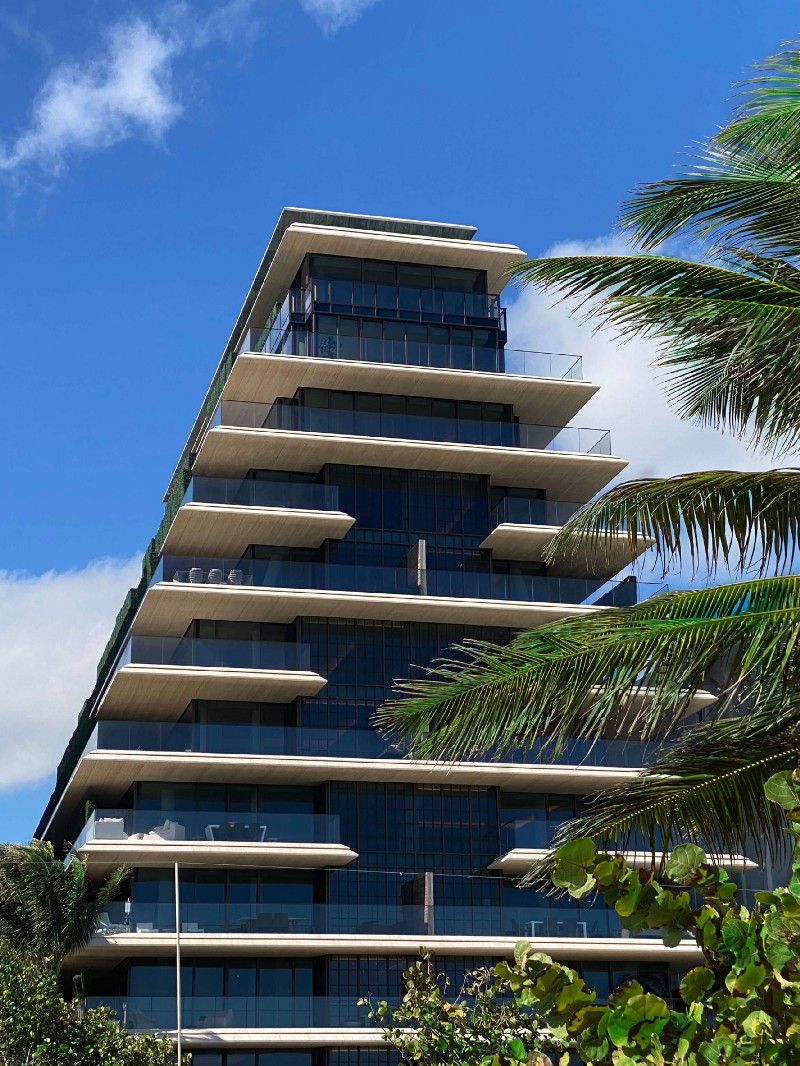 Developed by Spark's client, Sapir Corp Ltd. and marketed by Douglas Elliman, this collection of 16 oceanfront condominiums is one of the most exclusive and esteemed residences that is set to transform the town of Surfside into an "American Riviera."
Influenced by Italian Modernist, Antonio Citterio and traditional European apartment layouts, each residence at Arte Surfside harmonizes the luxury of privacy and promotes a vacation lifestyle. Kobi Karp Architecture & Interior Design created an open-concept by leveraging wide-plank European white oak floors and travertine accent walls. Arte Surfside is complete with luxury resort-style amenities including a roof top tennis court, outdoor swimming pool, and residents lounge with a catered kitchen. Sold by Ryan Serhant of the Serhant Team, this seaside development penthouse has broken local records for the selling price of $33 million dollars and has become an attraction for global affluent names.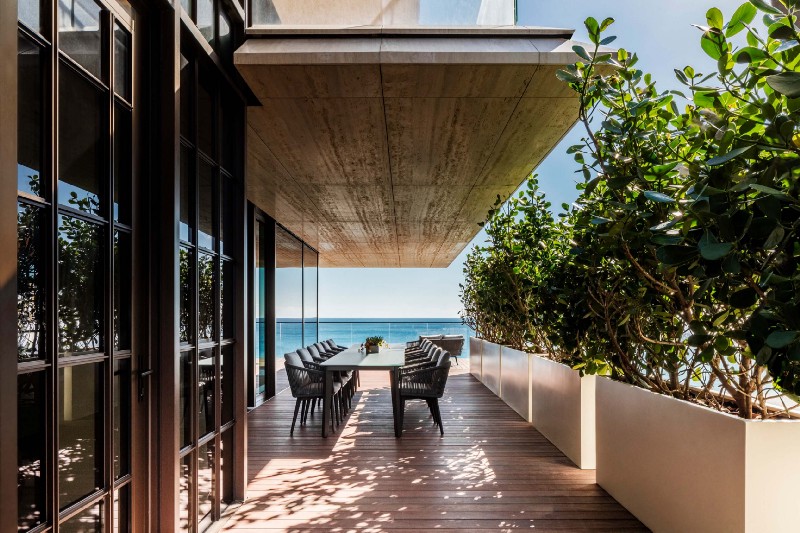 Four Seasons Residences at the Surf Club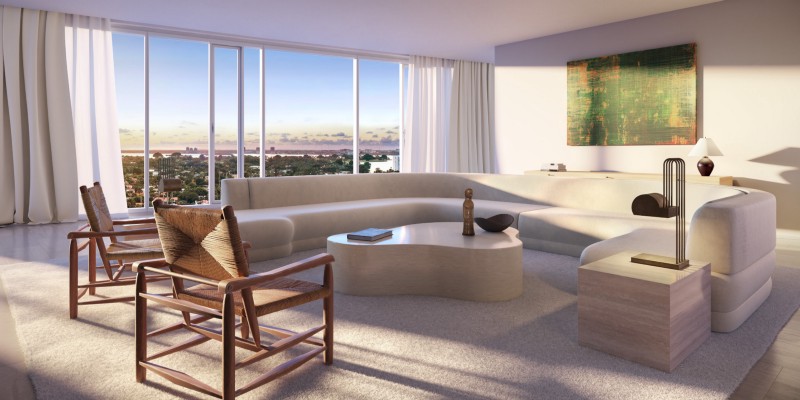 The Four Seasons Residences at the Surf Club are a collection of three new buildings that will allow for buyers to experience the benefits of hotel living with the prestigiousness of residential ownership. The historic 9-acre property was originally developed in 1930 as an exclusive members club founded by Harvey Firestone, a successful American business man. Expanding the original Surf Club are three new 12-storey buildings, with the middle structure housing a new Four Seasons Hotel and the flanking two comprising the Residences establishing a dialogue between the old and new.
Designed by award winning architect, Richard Meier, The Surf Club's intimate 12-stories combine indoor and outdoor living to bring his earth-rooted vision to life. Each of these 150 Miami residences will range from 1,800 to 7,800 feet with floor to ceiling glass walls and breathtaking unobstructed views. Boasting more than 965 feet of Atlantic Oceanfront, The Surf Club compound will incorporate a private membership club, two restaurants, four swimming pool, a state-of-the-art spa and fitness centre as well as more than 40 beach cabanas and an expansive park and oceanside gardens.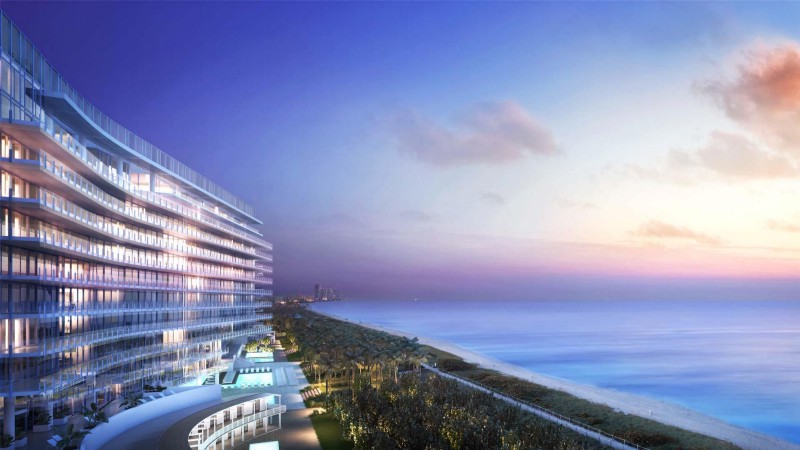 Mr. C Residences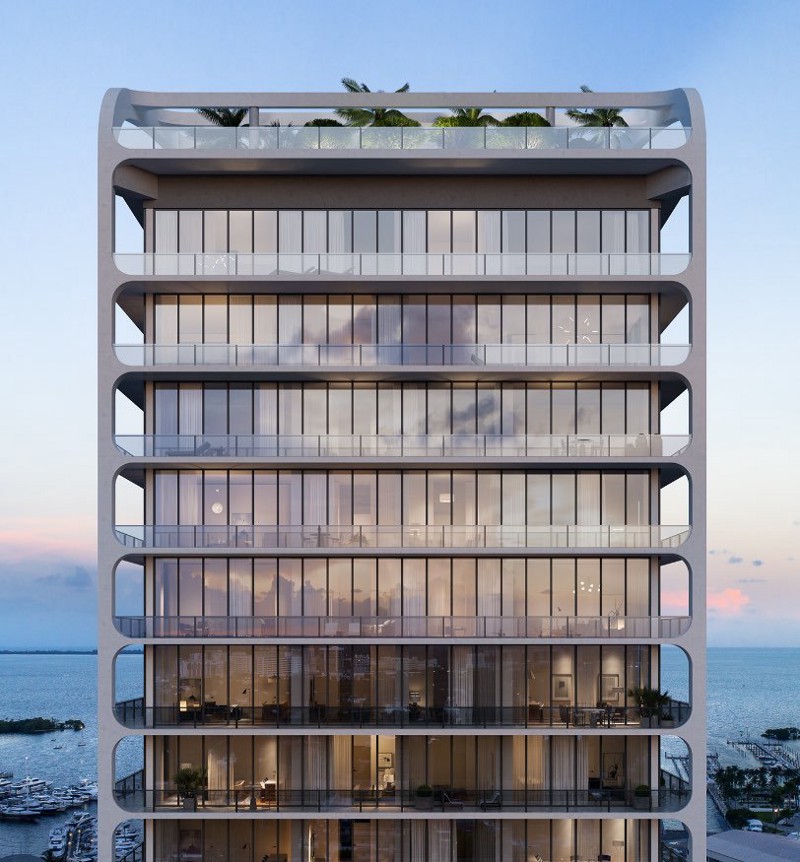 A contemporary take on a European lifestyle, the Mr. C Residences in Coconut Grove have been crafted to embrace the elegance of life's simple pleasures, including private cafes, a wellness lounge & juice bar, poolside service, and 24-hour valet service. Inspired by the Cipriani's family's history of Italian luxury hospitality, brothers Maggio and Ignazio Cipriani created these Bayshore Drive residences to be a glamorous yet inviting style of living.
Developed by Spark's client, Terra Group with interiors designed by Will Meyer and Gray Davis, the residences take on the nautical tradition by embracing yacht inspired shapes throughout the architecture and natural toned materials throughout the interior. Intentionally designed by the Cipriani brothers, these homes were created to appeal to an international audience as a "meeting point and residence of like-minded people from around the world".
One Thousand Museum Residences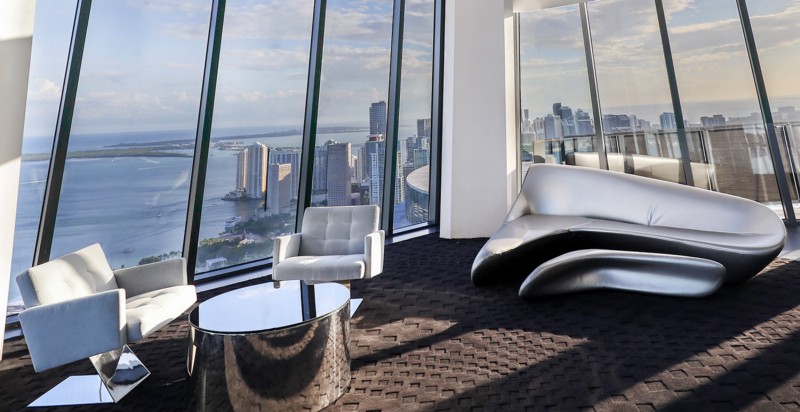 Fitting of its name, "One Thousand Museum Residences" rightly designates their homes as "a part of architectural history at Zaha Hadid's final masterpiece". Exemplary of Hadid's revolutionary style of sensuous, soaring buildings that blur the lines between art and architecture, each of the 84 units in One Thousand Museum Residences have been crafted by an elite team of designers to contain the finest features and finishes.
Situated in the heart of Miami's up and coming Art and Entertainment District, this new condo development's iconic architecture allows for residents to indulge in the luxury of its location and enjoy the relaxation of sophisticated resort-like wellness amenities such as a Sun & Swim Terrace, private spa, spacious fitness centre, double height aquatic centre, triple height sky lounge and a rooftop helipad. Residents can choose from a variety of floor plans comprising of duplex townhomes, half-floor residences, and full-floor penthouses all including oversized terraces that extend into the tropical sunlit Miami skyline.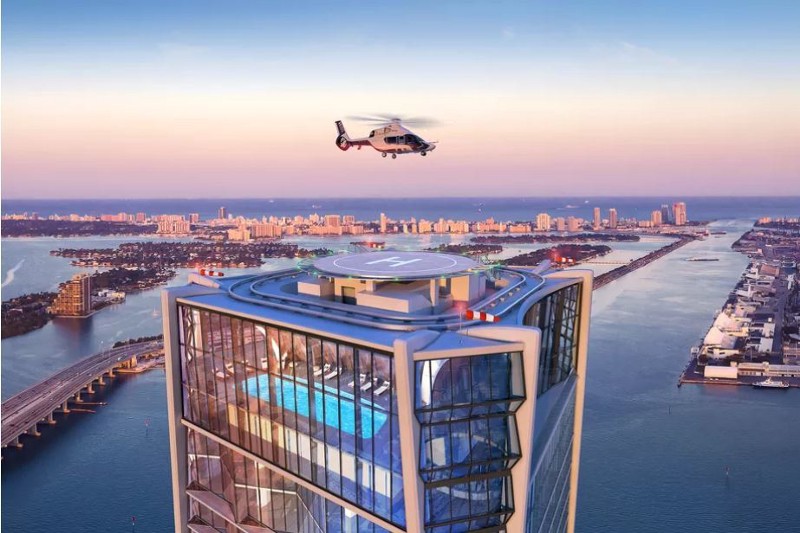 Aston Martin Residences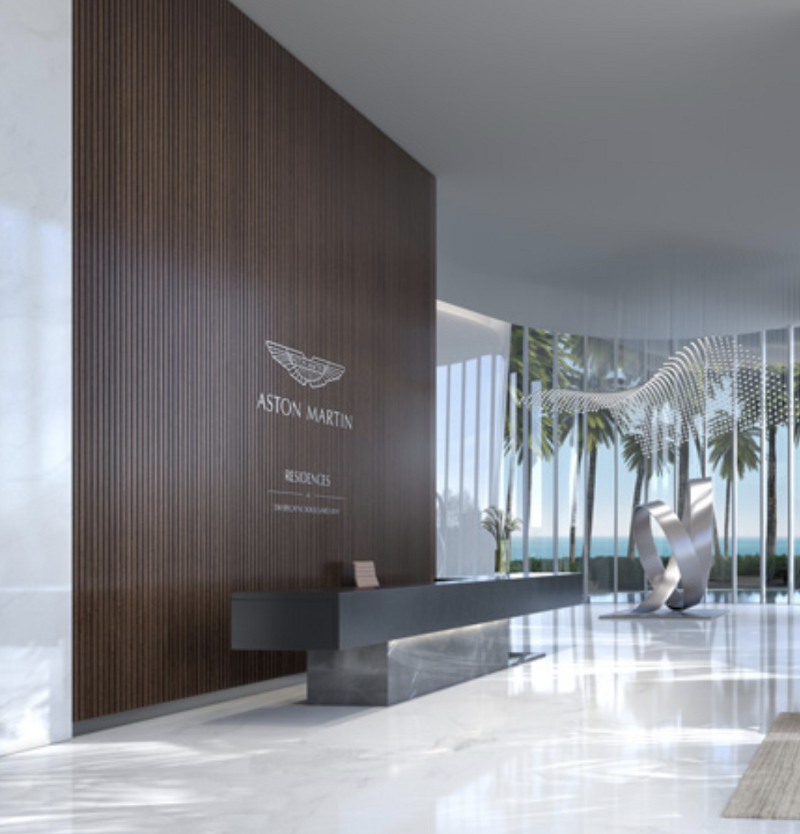 A familiar name in the world of luxury, Aston Martin is maintaining their mantra of "beauty, power, and soul" in their newest development, the Aston Martin Residences. G&G Business Developments LLC has partnered with this rich in history brand to create a one-of-a-kind development in downtown Miami. Not only are the residences accessible by car or foot, but additionally by the exclusive Aston Martin Yacht marina, allowing residents to "arrive home beautifully".
The top four floors of the building will exclusively consist of 42,275 sf. of amenity space, designed for residents to "heal the mind, relax the body, and lift the spirit. These amenities, located across the four "sky" floors of the building include an art gallery, movie theatre, vending centre and games room in addition to the relaxation centres. At 300 Biscayne Boulevard, Aston Martin's development team prioritized three things: "Maximization of space, optimal light and views, and the needs of today's cosmopolitan lifestyle".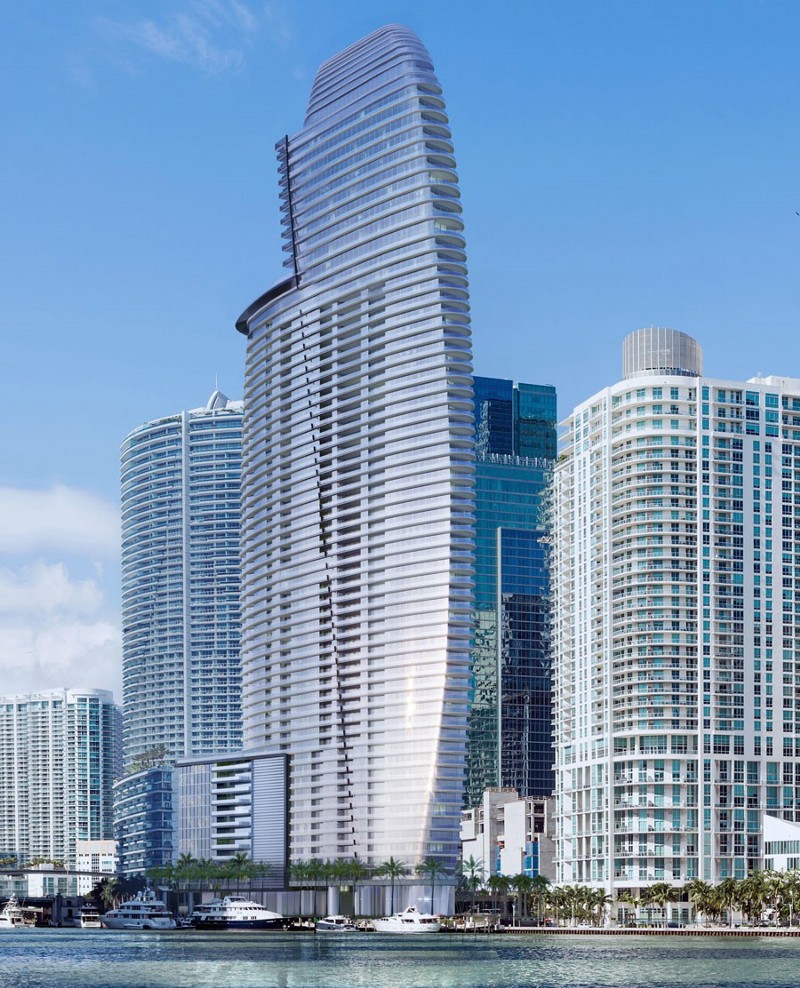 Five Park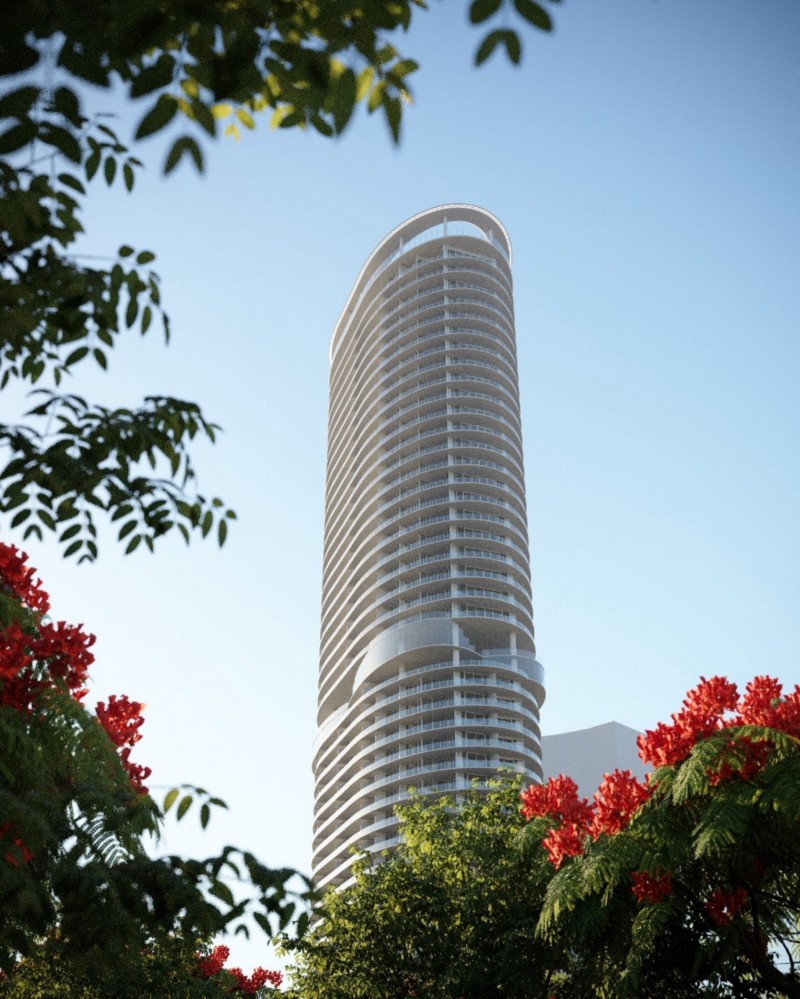 This 48-story Five Park condo is on track to become Miami Beach's tallest tower yet. Co-developed by Spark's client, Terra Group and GFO Investments, Five Park will feature 280 residential units as well as the construction of Canopy Park, a three-acre park for residents and the public to enjoy. The park will encompass green space, pedestrian and bike paths, a dog park, outdoor gym, children's play area, and public art displays. Through the park, Five Park residents will be able to directly access the Miami Beach Baywalk via a multi-coloured pedestrian bridge designed by renowned French artist Daniel Buren.
Together, Terra Group and GFO Investments are creating "a community for people who connect deeper, soar higher, and laugh more purely with the depth of the ocean that surrounds them." Designed by the Miami based firm Arquitectonica with interiors by Gabellini Sheppard, Five Park will include best-in-market amenities including an amenity deck with two swimming pools, a restaurant, sunset viewing lounge areas, a resort-style spa, and a state-of-the-art fitness centre with both indoor and outdoor exercise areas.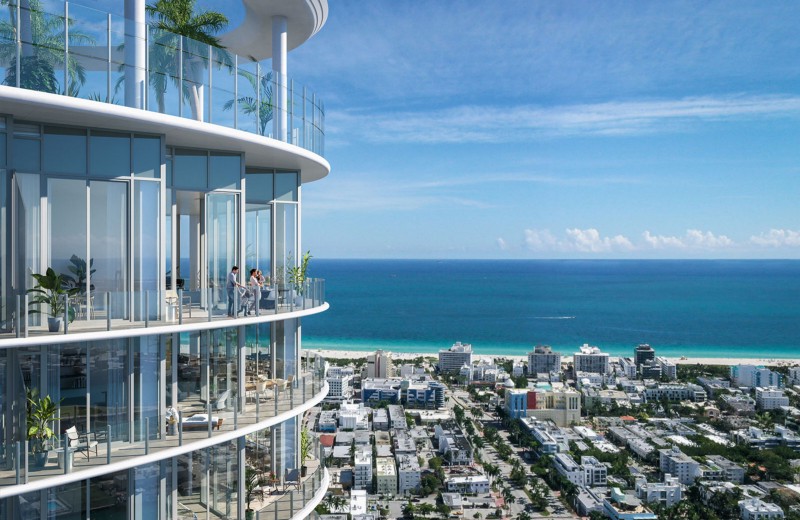 Una Residences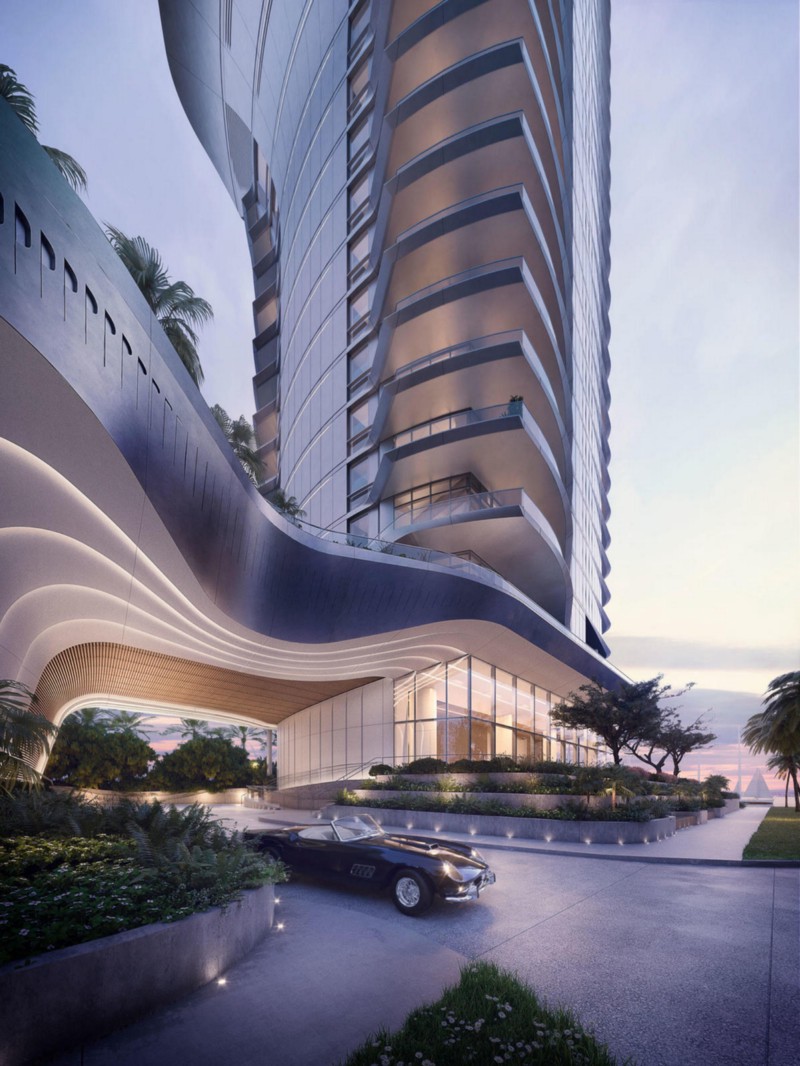 Developed by the OKO Group and designed Adrian Smith & Gordon Gill Architecture, Una stands out as a glimmer of synchronized materials conjoining to create an obtruding silhouette along Miami's developing skyline.
The first of its kind on the Brickell waterfront in more than 10 years, the Una residences do not disappoint. Fitness, wellness, and relaxation were top of mind for the development team, who thoughtfully included lounge and spa areas, a pool, and a children's play area. These state-of-the-art condominiums warmly welcome new residents from the moment they arrive at their new home with an arcing canopy and a double-height open-concept lobby. Una is being sold and marketed by Fortune Development Sales, who aptly has represented more than 80 of South Florida's most triumphant projects.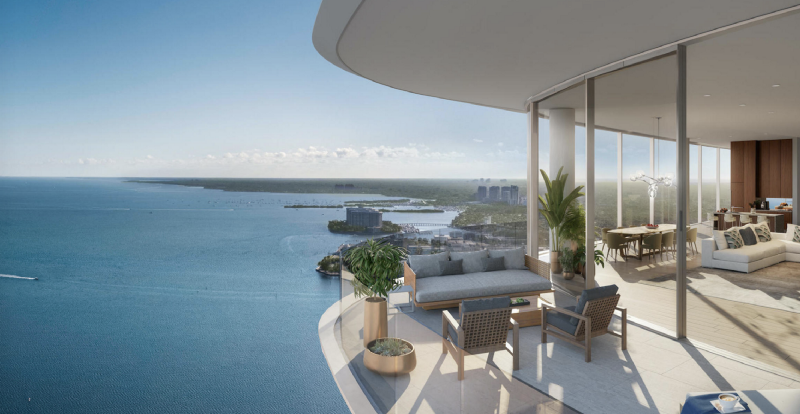 Monad Terrace Residences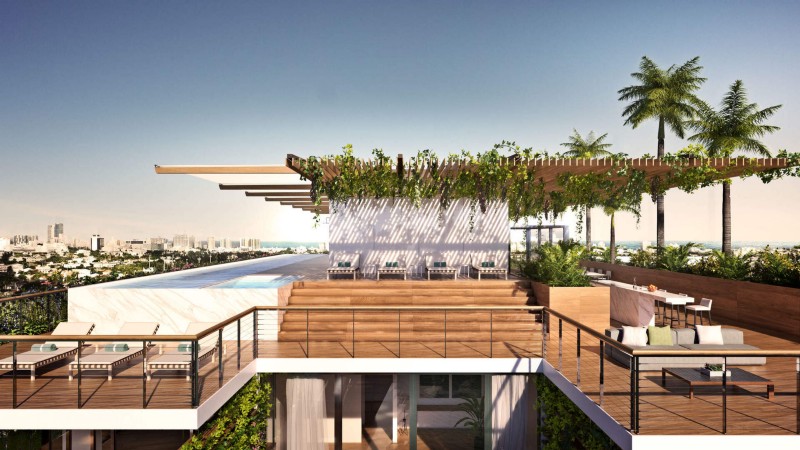 At the Monad Terrace Residences, developed by JDS Development Group and marketed by Douglas Elliman, each one of the 59 South Beach residences is equipped with a balcony to achieve effortless indoor-outdoor living, while nearly doubling the livable space of every home. Furthering the interaction with Miami's natural environment are luxurious amenities such as a sun deck with 116-foot swimming pool and hot tub overlooking Biscayne Bay, pool service, residents' lounge, bicycle and water sports storage and lush climbing gardens on North and South façades for privacy and shade.
Complete with ultramodern kitchen designs and richly marbled bathrooms exclusively designed by Jean Nouvel, the Monad Terrace Residences are a prestigious addition to Miami's South Beach. In order to bring the feeling of Biscayne Bay further into the development, Nouvel combined his expertise in both art and science to create what he has deemed "the Reflection Machine" — a calming interaction of Miami's natural light with the buildings sawtooth glass façade and the lagoon and water garden, that brings the feeling of the ocean and a glowing affect into the building.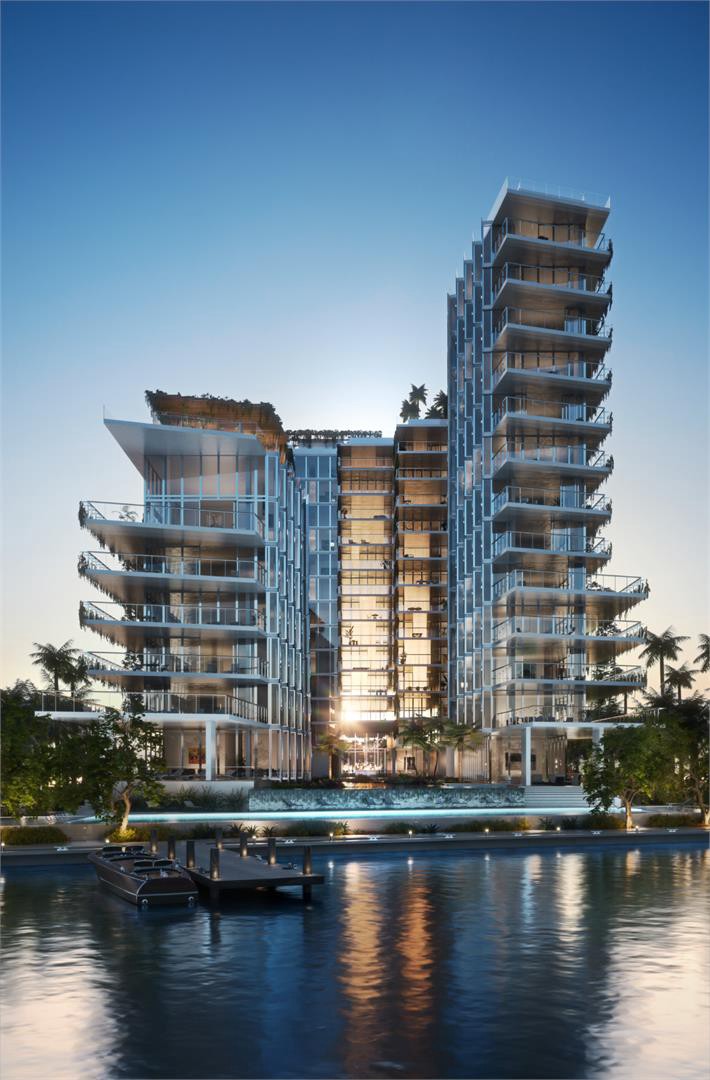 Brickell Flatiron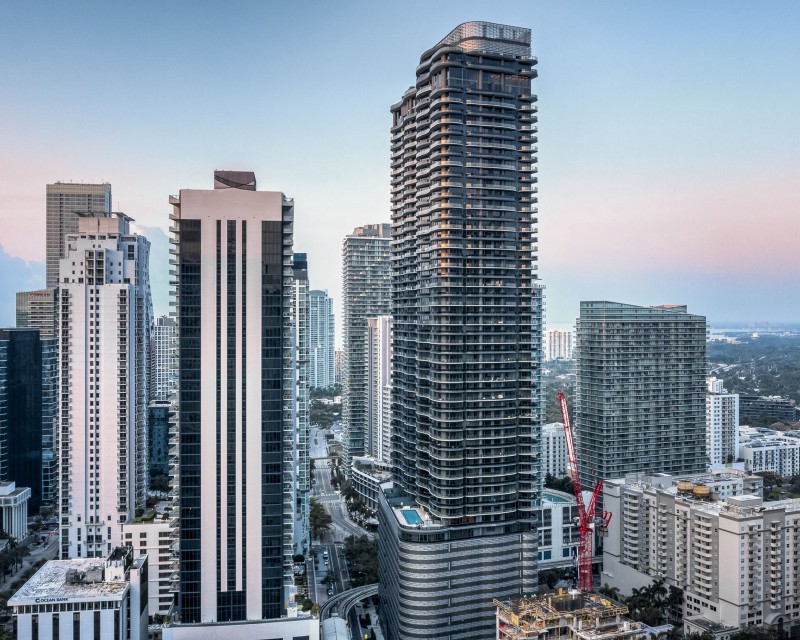 Sixty-four stores high, the Brickell Flatiron is adding exciting new dimensions to Downtown Miami. Each of the 527 residences of the 1000 Brickell Plaza condominium building has been carefully conceived by Architect Luis Revuelta to promise privacy and exude originality.
Developer, Ugo Colombo of CMC Group, allocated the top floors of the residence to be a physical representation of "life at the top" in the form of an exclusive Penthouse Collection. Each penthouse boasts it's own awe-inspiring view and meticulously selected materials of the very best quality. In addition to state of the art homes, Brickell Flatiron's hospitality inspired amenities exudes luxury from a 64th-floor rooftop level Sky Spa, Sky Pool and Sky Gym that provides 360-degree panoramic views of the bay and downtown Miami's glimmering cityscape to private steam, sauna and locker facilities, and a 6,300 square foot state-of-the-art fitness centre with pilates, spin and aerobics studios, as well as a juice bar.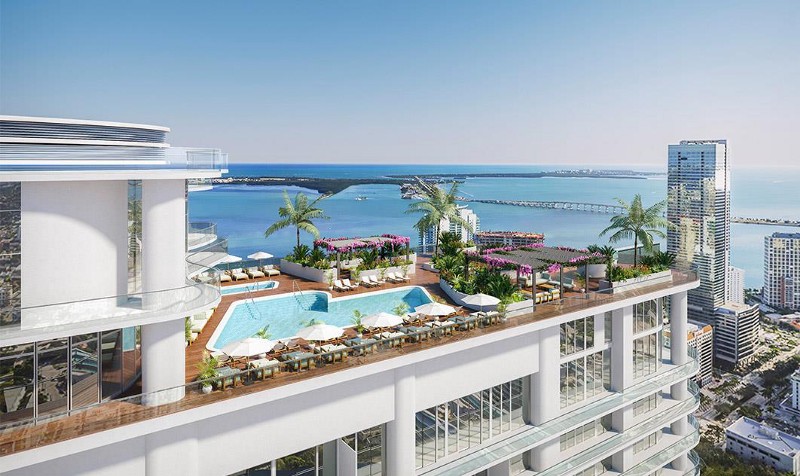 ---