5 Extraordinary Adaptive Reuse Projects From Around the World
Adaptive reuse is defined as the aesthetic process of reusing an existing building for a purpose other than which it was originally built…

Adaptive reuse is defined as the aesthetic process of reusing an existing building for a purpose other than which it was originally built or designed for. As cities expand and develop many out of use historic and industrial buildings find themselves in areas that present attractive residential opportunities. Landmark buildings are critical to the cultural image of a society, converting these existing structures while preserving much of their original historic character creates a significant value add for both the developer and the community.
These buildings offer Developers with the opportunity to capitalize on highly valuable plots of land as neglected areas are transformed into neighbourhoods. In some instances structures that have been designated historically significant find themselves in prime locations but cannot be torn down.
Adapting an existing structure to new uses while preserving significant features such as its facade and interior craftsmanship adds to the aesthetic of the cityscape while creating an alluring new development that combines unique decorative elements with the contemporary services and amenities buyers desire.
The Ritz-Carlton Residences
Developer: Lionheart Capital, Elliott Management Corporation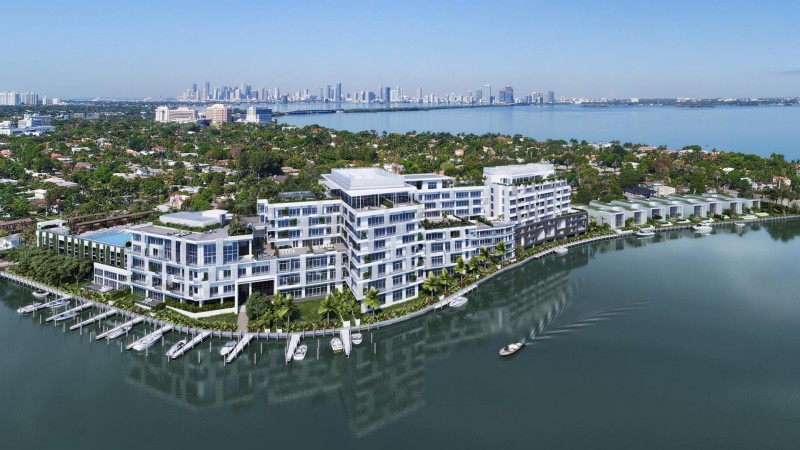 The Ritz-Carlton Residences sprawls over seven acres. Image via theresidencesmiamibeach.com.
The former Miami Heart Institute, a massive, sprawling bygone hospital, has been radically transformed into a light and airy contemporary residential development. With long wings nestled around interior courtyards by designer Piero Lissoni, the 7.5 acres of land that the development inhabits is completely surrounded by single-family residences on two sides and a lake on the other two. The developers opted to keep the structure as-is because of zoning codes, which would not allow them to build as high if the structure had been demolished. In doing so they were able to construct 111 apartments and 15 townhomes, with 60 individual floor plans that create unique homes that take advantage of the former hospital's many different floors, rooms, and layout.
Understandably, the developers are uneasy about emphasizing the hospital's history, which may deter potential buyers or cause them to feel uncomfortable, however the hospital's unique and generous layout has allowed them to create a complicated and distinctive series of residences where no two apartments are the same. These features have the ability to draw in discerning buyers who recognize the value in contemporary features, exciting architecture, and world class facilities, which range from a large rooftop amenity deck to an ecological food forest, community garden, house yacht, 36-slip private marina, art studio, and medical concierge.
Spire Lofts
Developer: Heritage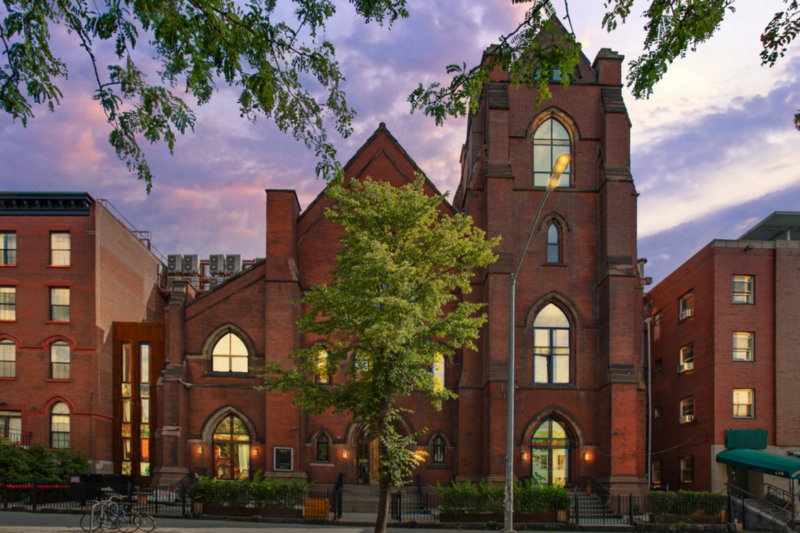 Spire Loft apartments. Image via streeteasy.com
The St. Vincent de Paul campus, a Roman Catholic rectory, school, and church, was not a landmarked site, but developer Heritage chose to convert and re-develop the existing structure despite higher risk and cost in order to preserve the appearance of the building out of the desire to create a truly unique development. The building is now a 104 unit interconnected rental complex, with the first phase transforming the brick rectory into 10 apartments, the second phase consisting of 39 units housed within the 19th-century neo-Gothic Church with several floors constructed in the soaring 70-foot nave. The third phase added two floors and 55 units to the school, which dates from the 1950s.
Additional details have been added to the new units to enhance the historic attributes of the structure. The walls of many showers were lined with red brick instead of tile, and the rough-hewn beams that had been in the church's ceiling are now exposed and angled through some of the living spaces. By preserving the unique exterior whilst preparing the building for new uses, Heritage reinvigorates a local landmark and participates in cultural preservation, opening up limited space and allowing residents to more fully live in and experience their local history.
Gasholder London
Developer: Kings Cross Limited Partnership
Architect: WilkinsonEyre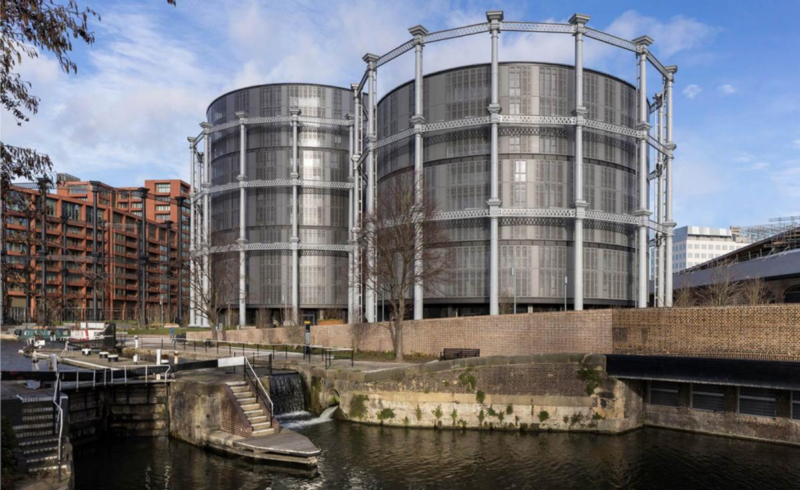 The Gasholder residential development in London's vibrant Kings Cross has been officially launched. Photography: Peter Landers
Gasholder London were developed out of Grade II-listed cast iron gasholder guide frames which were originally constructed in 1867 in central London's King Cross neighbourhood. The heavy industrial aesthetic and raw physical materiality of the frames create a dynamic dichotomy with the interiors of the apartments housed within.
The architect's WilkinsonEyre created three concrete-framed interlinked drum shaped apartment blocks that exist structurally independent of the historic frames that encase them. Each building differs in height purposefully to suggest the rise and fall in pressure that would have occurred within the original gas drums. Housed within, the 136 luxury apartments, and 9 penthouses have access to the complex's shared amenity spaces which include a private gym and spa, a business lounge and an entertainment suite with screening room, bar reception area and private dining room.
The circular nature of the buildings result in apartments that are laid out to take advantage of natural daylight, with the living and bedrooms at the perimeter. The 'pie' shaped configuration of the grid forms open-plan apartments with expansive views and a variety of orientations. Designed to create a counterpoint between new and old, the roofs offer another play of contrasts, as they are planted as gardens designed by Dan Pearson Studios to bring nature to this re-inhabited urban landscape.
36 Hazelton Ave, Toronto
Developer: Altera Group, Zinc Development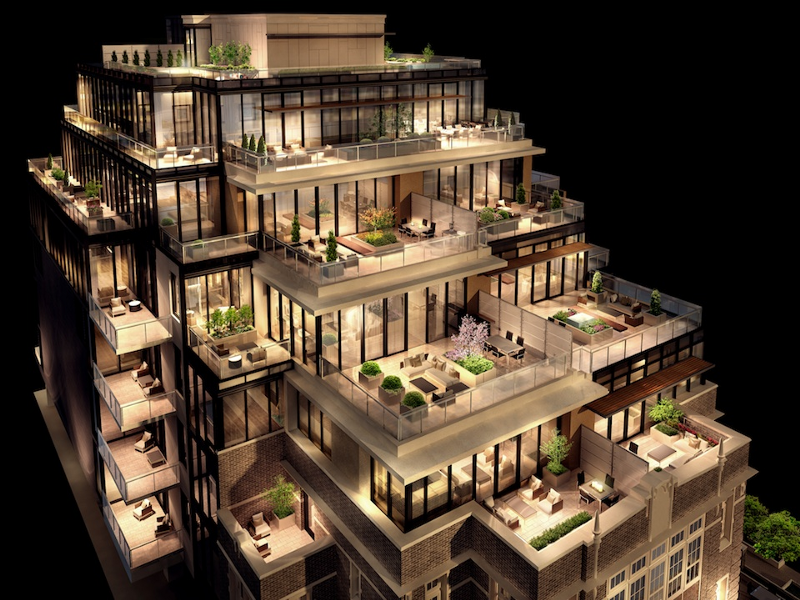 36 Hazelton, Toronto, Canada. Image via https://torontostoreys.com
Nestled in Toronto's highly coveted Yorkville neighbourhood, 36 Hazelton consists of 20 exclusive private residences constructed in the former St. Basil's School whose Gothic-style facade dates back to 1928. A conversion and restoration of the school, each suite is completely unique in both layout and design, ranging from 1,073 square feet to 4,600 square feet over seven storeys in a neighbourhood that maintains its residential feel despite being steps away from downtown.
Attention to detail, grand terraces and luxury amenities that include a traditional wine cellar lined with private climate-controlled lockable fridges and an adjoining tasting room ideal for intimate dinner parties, a recreational billiard room, and a fitness centre with virtual cycling studio contribute to a truly unique project that will continue to stand the test of time.
Le 1420, Montreal
Developer: Corev Immobilier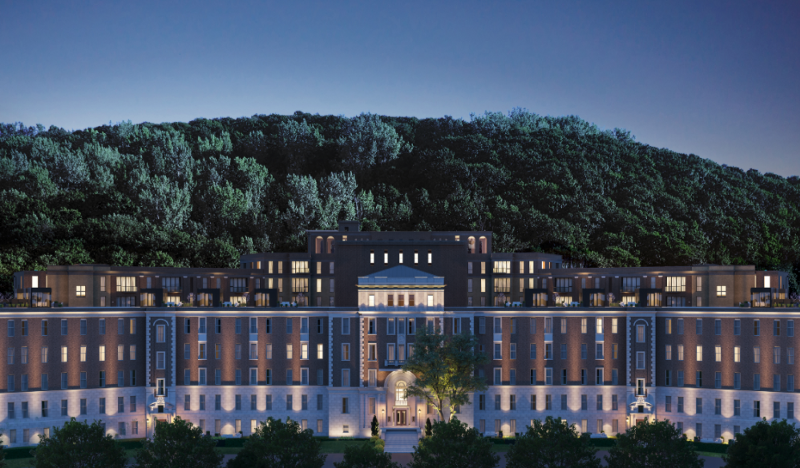 Le 1420 nestled within Mount Royal, Montreal. Image via https://le1420.ca/
Originally built in 1924 as the convent for the Sisters of the Holy Names Jesus and Mary, Le 1420 is a prestigious residential project consisting of 200 unique condominium units, each entirely different from the others. Located on the slopes of Mount Royal this development provides residents with access to the park's many trails while being steps away from Downtown Montreal.
Historic elements like the original chapel have been transformed and restored into a multi-functional venue for exhibitions, concerts and receptions, original ceilings and a vast marble-clad entrance hall are joined by modern amenities such as a private bistro, interior pool, immense gym and spa full of state of the art equipment, a magnificently landscaped garden and interior courtyard to inspire the best of life and wellbeing.
180 of the units will be made to measure allowing residents to choose their view, configuration, outdoor space and finishes with square footage running from 900–4000 and ceiling heights from 12–16 ft that embraces the historic architecture of the original building.
---
https://spark.re/?utm_source=Blog?utm_medium=Medium?utm_campaign=5 Extraordinary Adaptive Reuse Projects From Around the World?utm_term=?utm_content=
---
This article is the second instalment of ongoing series that highlights exciting Adaptive Reuse projects around the world.