Industry News & Projects
7 Starchitect Powered Projects Launching in 2022
Designs by top firms are an increasingly desired aspect in home buyer consideration.

Designs by top firms are an increasingly desired aspect in home buyer consideration.
Around the world residential developers enlist top architectural firms as a way to embed status and garner interest from prospective buyers keen to live in iconic residences.
These firms, often headed by one or more instantly recognizable name, have come to be known by the term Starchitect. Their distinctive designs and prestigious names have the power to help developers convince councils to rezone sites and approve their often large scale proposals, obtain financing from lenders and instantly sell-out projects.
Usually avant-garde in design with bold, distinguishing characteristics that are easily recognized and associated with the architect or firm, these landmark projects transform cities and the way we interact with urban environments while shaping and reshaping the way we live in residential environments.
We've compiled a list of 7 of the most iconic residential projects that are launching in 2022.
Brooklyn Tower by SHoP Architects | Brooklyn, USA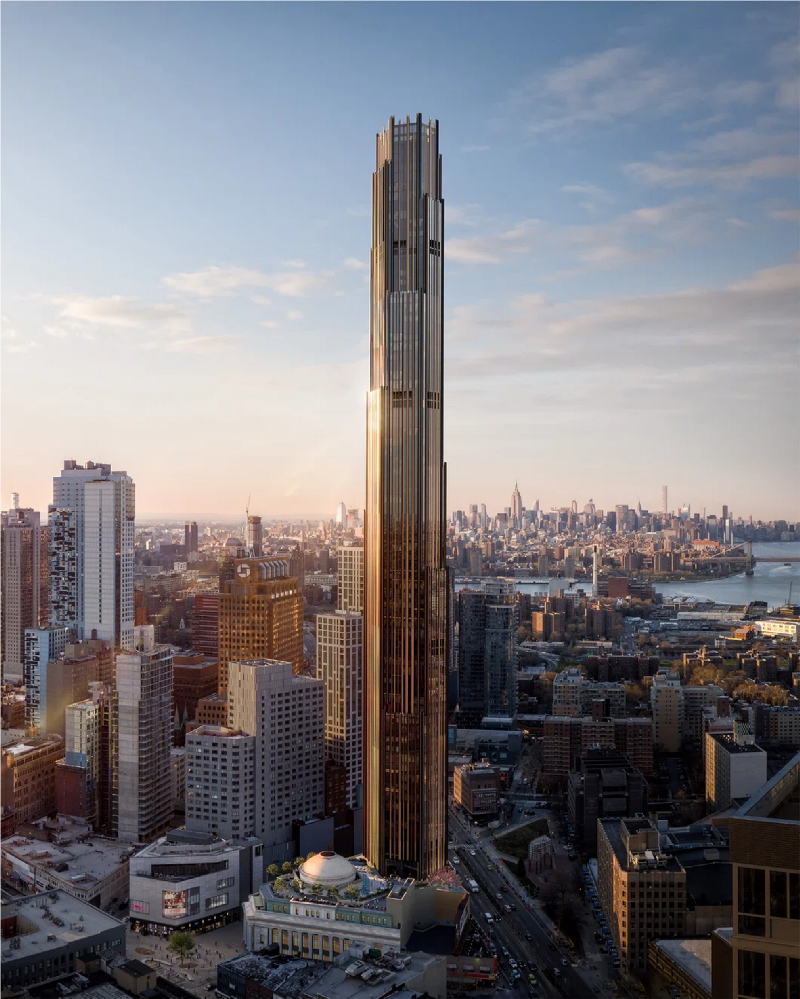 In the 26 years since its formation, SHoP Architects has been behind some of the most iconic projects around the world. From The Barclays Center in Brooklyn to the The Botswana Innovation Hub, Atlassian HQ in Sydney and the American Copper Buildings in Manhattan, SHoP has continued to push the boundaries of the traditional role of the architect as the scale of their projects grows higher and higher with each new design. As self described "architects and innovators, crafts people and problem-solvers, highly-trained specialists and proud generalists" SHoP specialize in intelligent, evocative design that can exist within the constraints of the real world.
For Brooklyn Tower, the firm's redevelopment of the historic Brooklyn Dime Savings Bank site in Downtown Brooklyn, not only are they bringing scale with the borough's first supertall, but paying homage to traditional architecture through a balance of conventional materials and pioneering technology, creating a dialogue between past, present, and future.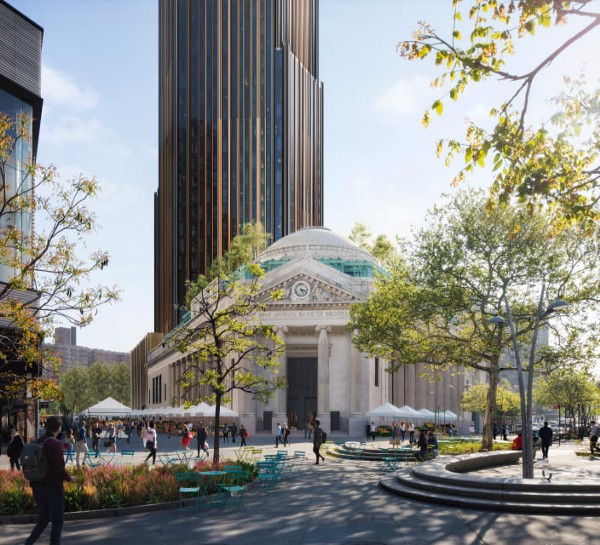 Overseen by Douglas Elliman Development Marketing, a combination of for-sale and rental units launched sales in March 2022. With 150 condominiums ranging from studio's to four-bedroom units, a limited number of penthouses to be released later this year and a comprehensive amenity program that spans over 120,000 square-feet, SHoP has restored and repurposed an existing landmark into a lasting icon. At 93-stories the tower's impact on the skyline is a symbol of Brooklyn's ongoing renaissance, rivalling in height of the ever-growing towers of Manhattan.
Forma by Frank Gehry | Toronto, Canada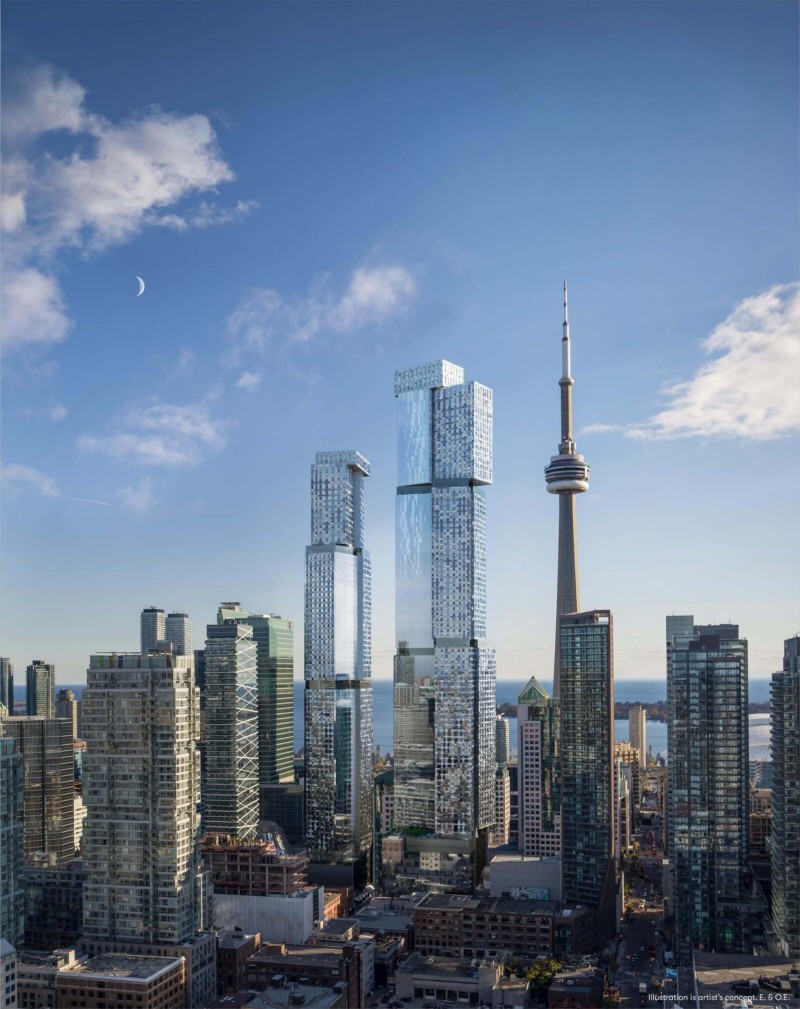 In what has been dubbed his "Homecoming Masterpiece,'' architectural icon, Frank Ghery's new project, Forma, will consist of two towers standing at 73 and 84-storeys. Best known for his design for the Guggenheim Museum in Bilbao, the Pritzker Prize winning architect is responsible for many iconic buildings around the world including 8 Spruce Street in Manhattan and Dancing House in Prague. Developed by Great Gulf Group, Westdale Properties, and Dream, Forma will be the tallest building designed by the Toronto-born architect.
Deeply rooted in Modernism, Ghery's work is considered among the most influential in contemporary architecture. Distinguished by it's unanticipated materializations that create a sculptural experience, Forma will be no exception. Named for the towers' apparent dancing movement, each tower is designed to have its own personality while simultaneously creating a dialogue with one another.
Split between the two buildings will be a total of 2,034 condominiums, commercial and retail space as well as the new campus for the Ontario College of Art and Design (OCAD).
Qorner Tower by Safdie Architects | Quito, Ecuador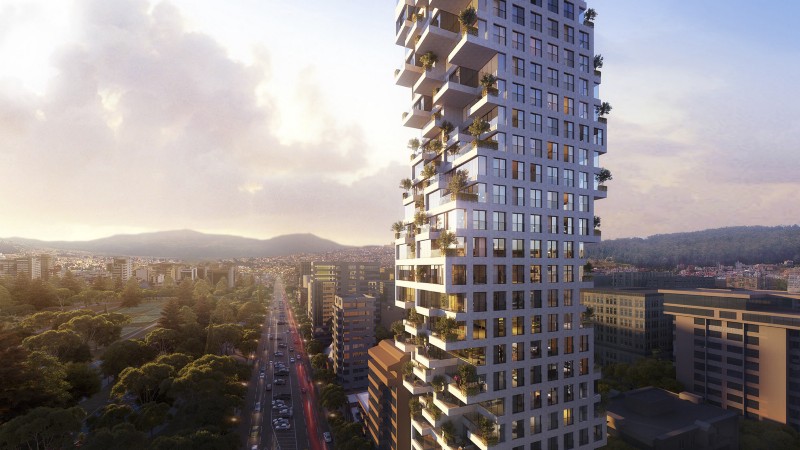 Globally acclaimed for projects such as Habitat 68 inMontreal and the Marina Bay Sands Resort in Singapore, the Boston, MA based Safdie Architects design is driven by a philosophy rooted in connection to nature by creating meaningful spaces of community to serve as a catalyst for vibrant public life. Through an intentional practice that responds to the local context of a building, Safdie Architects humanistic ideals and collaborative approach result in imaginative commissions of diverse scale, geology and typologie.
For their latest project, Qorner, Safdie Architects is developing a 24-storey tower overlooking La Carolina Park in Quito, Ecuador. Occupying a small corner plot along Avenida Portugal, a busy shopping street, the building's design consists of vertically stacked dwellings with units that stagger in and out creating large garden terraces on each level, set to become one of the city's tallest towers once finished. The staggered arrangement is the firm's response to the tightness of the site in order to maximize outdoor space and natural light.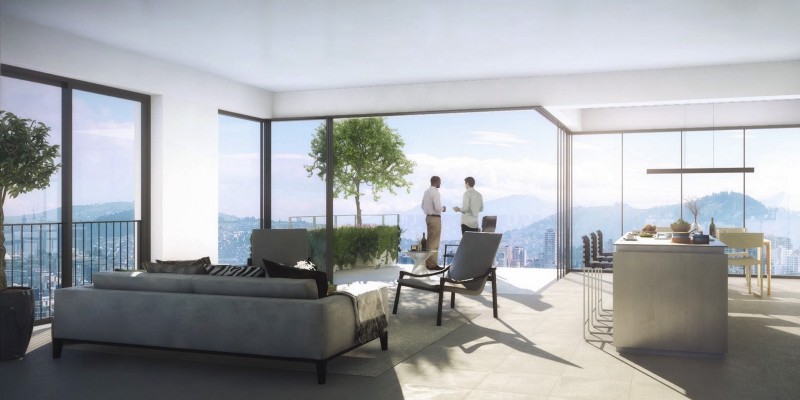 Developed by Uribe & Schwarzkopf who have over 45 years of building experience and have brought over 120 projects to Ecuador, Qorner's plated terraces will be covered with regionally indigenous plants and will include a covered rooftop garden with an infinity pool along the edge.
SOM Architects for a site at 1640/1650 Alberni St | Vancouver, Canada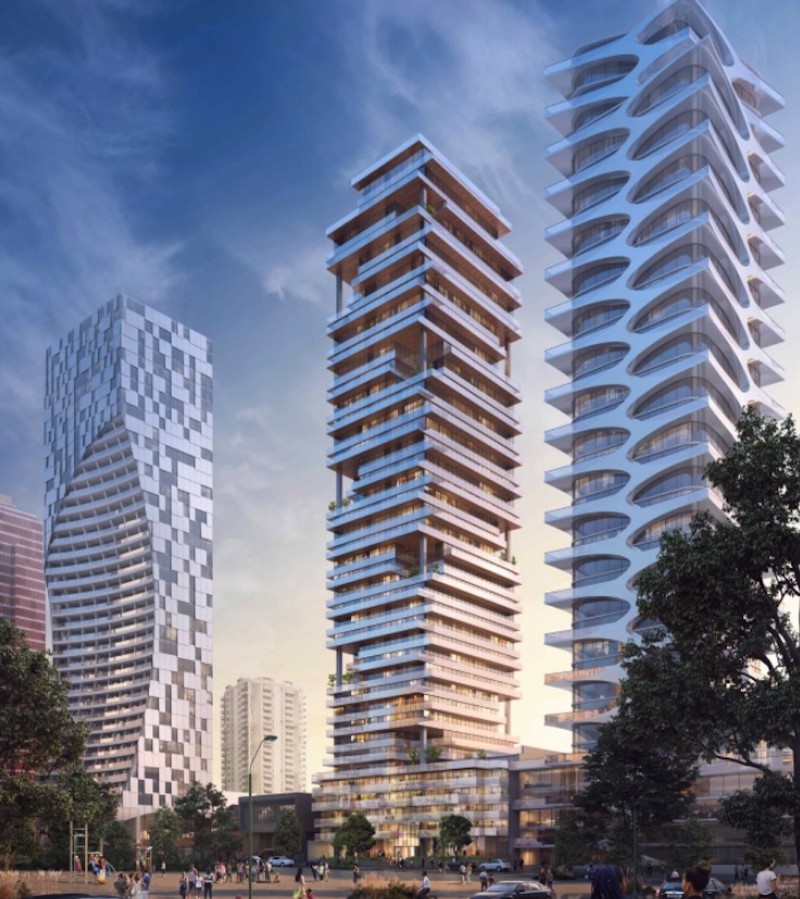 Founded in 1936, American architectural, urban planning and engineering firm, SOM's portfolio spans thousands of projects across the world including Lever House, New York, the Burj Khalifa in Dubai, One World Trade Center in New York and Salesforce East in San Francisco.
Interested in designing the future, SOM's approach has been immersed in both Modernism and skyscraper construction since their inception — growing from designing the first Modernist office building in New York City to the skyline defining supertalls today.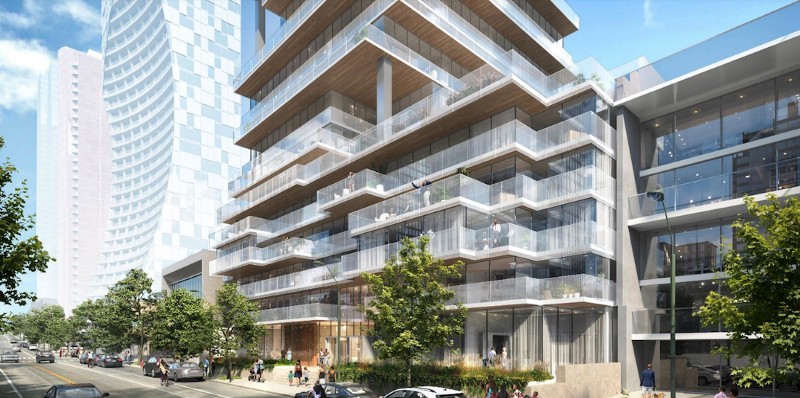 Bringing their tradition of height to Vancouver, 1650 Alberni is set to become one of downtown Vancouver's tallest luxury residential towers. Landa Properties in partnership with Asia Standard Americas will bring the 43-storey tower to Vancouver's Coal Harbour neighbourhood. Honouring their founders' pledge to offer a multidisciplinary service that meets the needs of its time, the new project includes three levels of office space and 264 homes, divided between 198 luxury condominium units.
Conceptualized as a series of "stacked trays" offset in alignment to create balconies on each floor, 1650 Alberni utilizes this strategic spacing to optimize winter solar heating while limiting summer heat gain, allowing it to be an ultra-high performance building.
Rosewood São Paulo by Jean Nouvel | São Paulo, Brazil
Pritzker Prize winner Jean Nouvel's urge for creative experimentation can be seen throughout his prolific portfolio of projects including Gasometer A in Vienna, Louvre Abu Dhabi in the UAE and 53W53 in New York. Through a multidisciplinary practice that includes architecture, urban planning, interior, landscape, graphic and product design, Nouvel designs his buildings to create a visual landscape that fits their surroundings.
For Rosewood Hotel Group's first Latin America project they enlisted Nouvel for the revitalization of the Condessa Filomena Matarazzo Maternity hospital in São Paulo into a 160 guest room, 100 unit private residences development. With the addition of a new tower designed by Nouvel, the historic property will feature overlapping trellises and brise-soleils that frame a vertical forest and will be the anchor for the Cidade Matarazzo luxury community. Developed by Groupe Allard, Cidade Matarazzo will be a 550,000 square-metre complex of historic buildings regenerating the city's centre.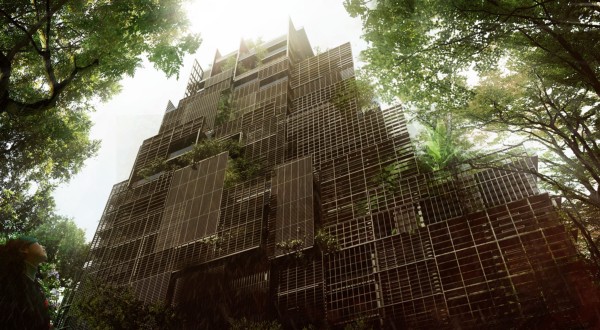 As Nouvel's first major design for a Latin-American city, the 90-metre tower, will be a new chapter in the history of the city and for his firm. Conceived as a tribute to the Atlantic Forest that lines Brazil's coast, the vertical forest will feature local vegetation, flowers, plants and trees that fall into the public and private spaces, securing both a sense of continuity between the tower and its surrounds as well as offering ample privacy to the residents.
Valley by MVRDV | Amsterdam, Netherlands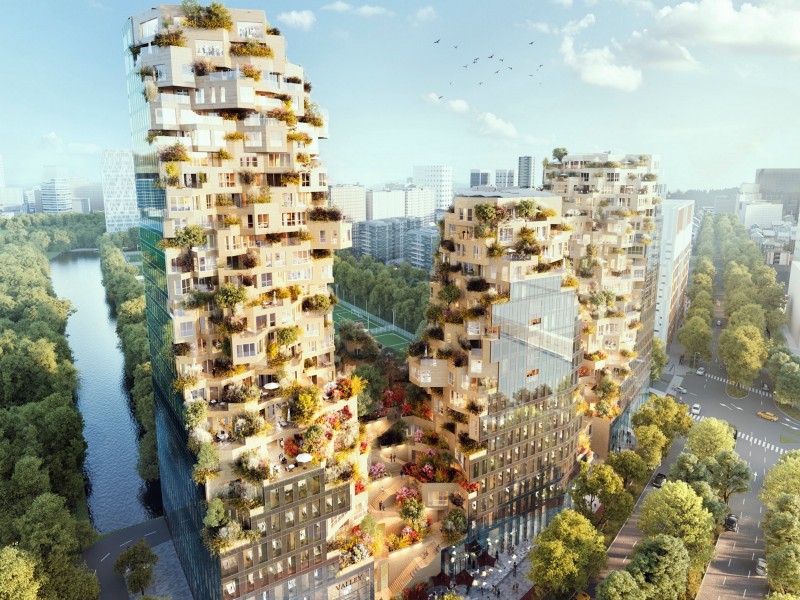 Renowned for their research oriented approach, MVRDV has been committed to providing solutions to contemporary architectural and urban issues around the world for nearly 30 years. Known for projects such as DNB House in Oslo, Norway, The Hongqiao Flower Building in Shanghai, China and Amanora Future Towers in Pune, India, MVRDV places an emphasis on smart, inclusive and green urban life in each of their designs.
Along with their practice, MVRDV has founded the co operation research institute The Why Factory which conducts research revolving around future scenarios for future cities and societies, providing an experimental outlook on the urban landscape that further underscores their mission create exemplary, outspoken projects in order to enable our cities and landscapes to develop towards a better future.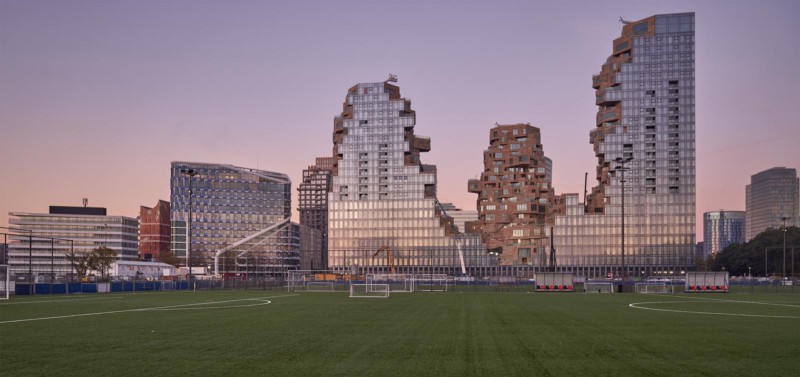 Valley, the firm's latest project coming to completion this year, follows this ideology. Developed by EDGE Technologies in Amsterdam's main international business centre, Zuidas, the project is a part of the city's ambition to correct the lack of residential interests in the area but transforming it into a more livable urban quarter. Deriving its name from the publicly accessible terraced valley that spreads between the three mixed-use towers, the project is defined by transition, sitting on the border between residential and commercial.
Consisting 196 apartments and 7 storeys of office space, Valley's residences will feature unique floor plans, bay-windows and balconies with dense planting designed by landscape architect Piet Oudolf.
Mira by Studio Gang | San Francisco, USA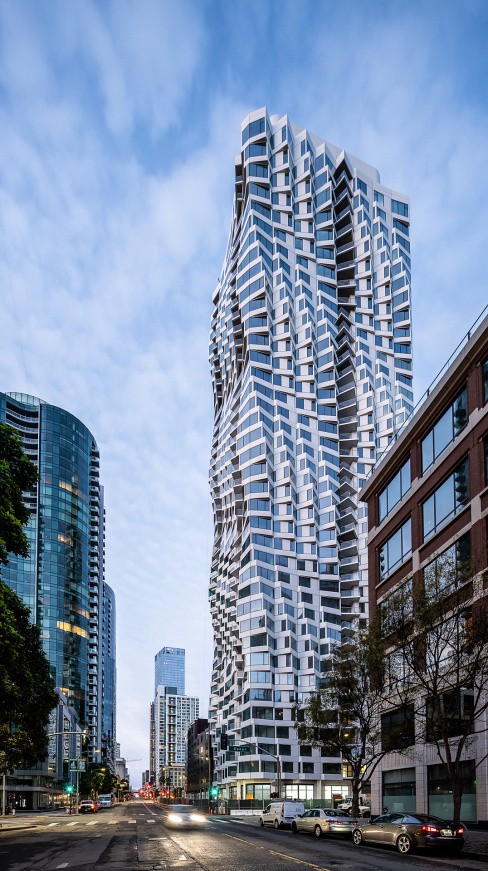 Known for her innovative responses to issues of environmentalism and ecological sustainability, Studio Gang has played a critical role in creating places that support environmental resilience, foster equity and justice and empower historically marginalized communities around the world. Best known for Aqua Tower in Chicago, USA (which at the time of completion was the tallest building designed by a woman), Studio Gang is also responsible for One Hundred Above the Park in St. Louis, MO, 11 Hoyt in Brooklyn, NY and the soon to launch One Delisle in Toronto, Canada.
Just blocks from the Bay Bridge in San Francisco, Studio Gang's newest residential project, Mira, undulates 400-feet into the sky. Responding to the city's density needs while reinterpreting its architectural history, Studio Gang reimagines the classic bay window found into a high-rise context — the bays of the tower twist to offer its residents extensive views, fresh air and ample natural light.
Developed by Tishman Speyer, Mira moves away from the impersonal buildings of the past and toward a future of accessible, artistic, high-design architecture. Each of the 392 units has access to the building extensive amenities including a courtyard, rooftop deck, children's playground, dog washing facilities and valet parking.
---