At Spark, we pride ourselves on being the only platform powering the world's most successful real estate project launches and sell-outs. Our end-to-end sales platform provides developers, project marketers and brokerages the tools needed to manage every aspect of selling New Development, all under a single login.
We know that crafting an immersive experience is vital to selling your New Development projects - that's why we integrate with best in class real estate marketing sales tools, like Property Platform. Their bespoke digital environment invites potential buyers to both explore available units and emotionally experience their life as a potential resident. Together, we wanted to illustrate why you need sophisticated sales tools to sell your luxury real estate projects effectively.
Introducing an Integrated Approach
By fully integrating their proprietary platforms, Property Platform and Spark offer a unique model for the marketing and sales of luxury real estate projects. Since the client experience for the luxury real estate buyer needs to be elevated at every touchpoint, Property Platform's integrated approach weaves captivating property narratives with detailed data-driven personalization for customized follow ups and lead conversion.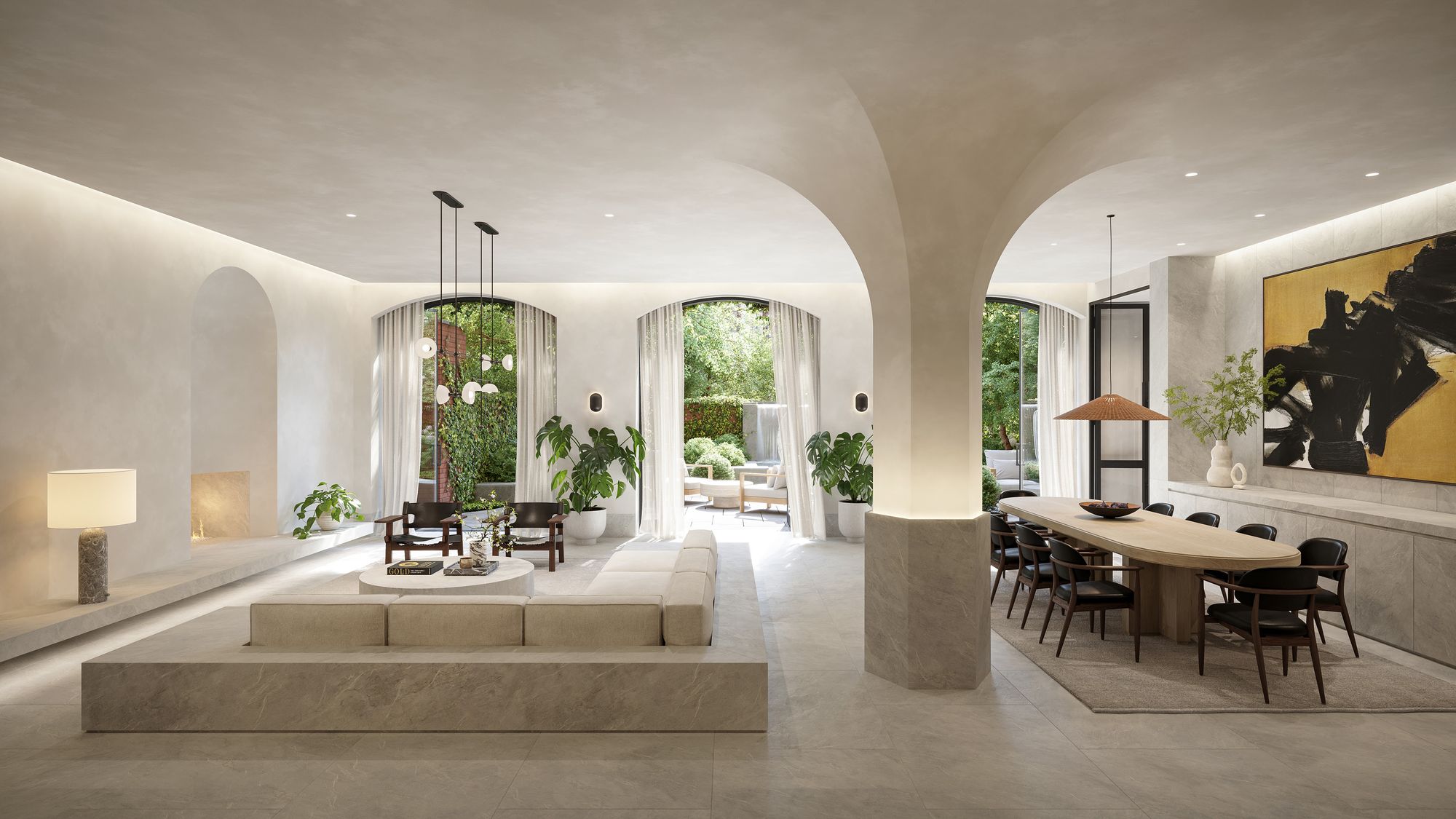 Qualities of a Luxury Real Estate Project
The term "Luxury" is used extensively by real estate marketers, but what actually qualifies as a luxury project? Luxury residences typically share these characteristics:
Prices ranging from $2,000 / square foot in locales such as New York and London, to $4,500.00 / square foot in Monaco (Price points vary depending on the market rates of each locale).
Feature fine materials and finishings which are incorporated into the marketing and delivered at the time of the build.
Designed and built by a renowned team of architects and developers.
Include state-of-the-art security and top-tier amenities.
Incorporate year-round five-star hotel quality concierge service.
In addition to the above qualities, we are seeing a rise in branded luxury projects. These are buildings that have been branded by a notable luxury lifestyle brand, such as a fashion house, global hotel brand, or even a luxury European automotive company.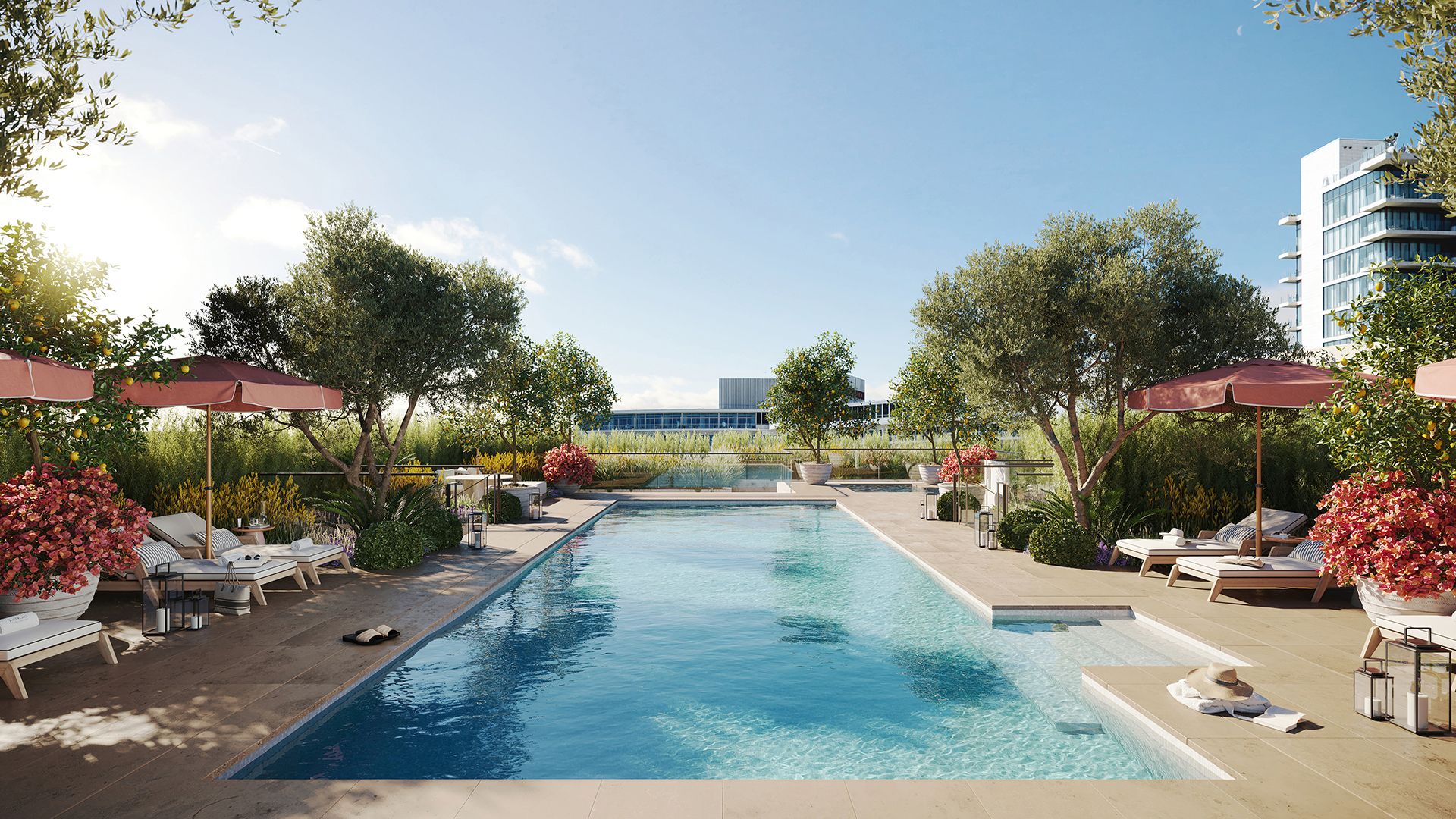 Catering to our Client's Client: Meet the Luxury Real Estate Buyer
Buyers of luxury residential real estate have high expectations, and significant purchasing power. They expect their sales team to be able to provide detailed information about the product, from the architect's inspiration to the layouts of the floor plans.
One of the most striking demographic nuances of the luxury real estate buyer is that according to Engel & Volkers, 59% of peak luxury buyers in 2022 (those looking to buy a home above $3 million) were millennials. Millennials are digital natives which is why the sales experience needs to be as state-of-the-art and technologically savvy as the luxury property itself.
In addition, affluent buyers:
Have a greater inclination to purchase when the stock market is healthy, often buying with cash (versus credit), and therefore are less likely to consider interest rates.*
Seek status - whether it's a historical location, a starchitect designing the building or that rare stone from Greece in the chef's kitchen, these buyers need to know that their new home will be one that is coveted and unique.
Face less competition resulting in less urgency to submit an offer - luxury properties typically have a longer selling time frame due to limited pre-qualified buyers.** The time spent with sales agents is increased, therefore the experience must be memorable.
Property Platform + Spark: Successful Collaborations to Date
To date, there have been three extremely successful collaborations between Property Platform and Spark. Monogram New York, a striking 35-story condominium residence by Anthology Group, the Residential Towers at the iconic Waldorf Astoria, and the soaring Brooklyn Tower, Brooklyn's first supertall.
The Brooklyn Tower has become an instant landmark in New York City, and at 1,073 feet it is now the tallest building in Brooklyn. With over 400 units on offer, the sales team at Douglas Elliman use Property Platform to create personalized microsites with each of their client's preferred units post-appointment. Data collected from Property Platform serves as the foundation for customizing marketing campaigns delivered with Spark. By utilizing Spark's digital contracts feature, both companies can offer an end-to-end solution starting in the sales gallery and ending with an executed contract.
Sales & Marketing Synergy
We've seen increased sales and better ROI for luxury residential projects that use the integrated systems. So how do we streamline communication and data sharing and why does it result in increased sales?

Real-Time Data Sharing - Integration enables real-time data sharing between sales and marketing teams - taking metrics from sales gallery meetings, remote meetings, anywhere where sales teams meet their clients. Information about lead interactions, preferences, and behavior is instantly available, enabling more informed decision-making and follow-up.

Personalized Content - Property Platform custom URL and digital brochure sends personalized content to clients, seconds after a meeting has concluded. Buyers feel understood and valued, leading to higher satisfaction and loyalty.
Inventory Management - Both inventory and property listings can be managed directly from the integrated platform. Visualization tools provide buyers with unique first-person perspective so they are able to experience life as a resident including views, 3D walkthroughs of the unit and amenities, materials, color schemes and so much more.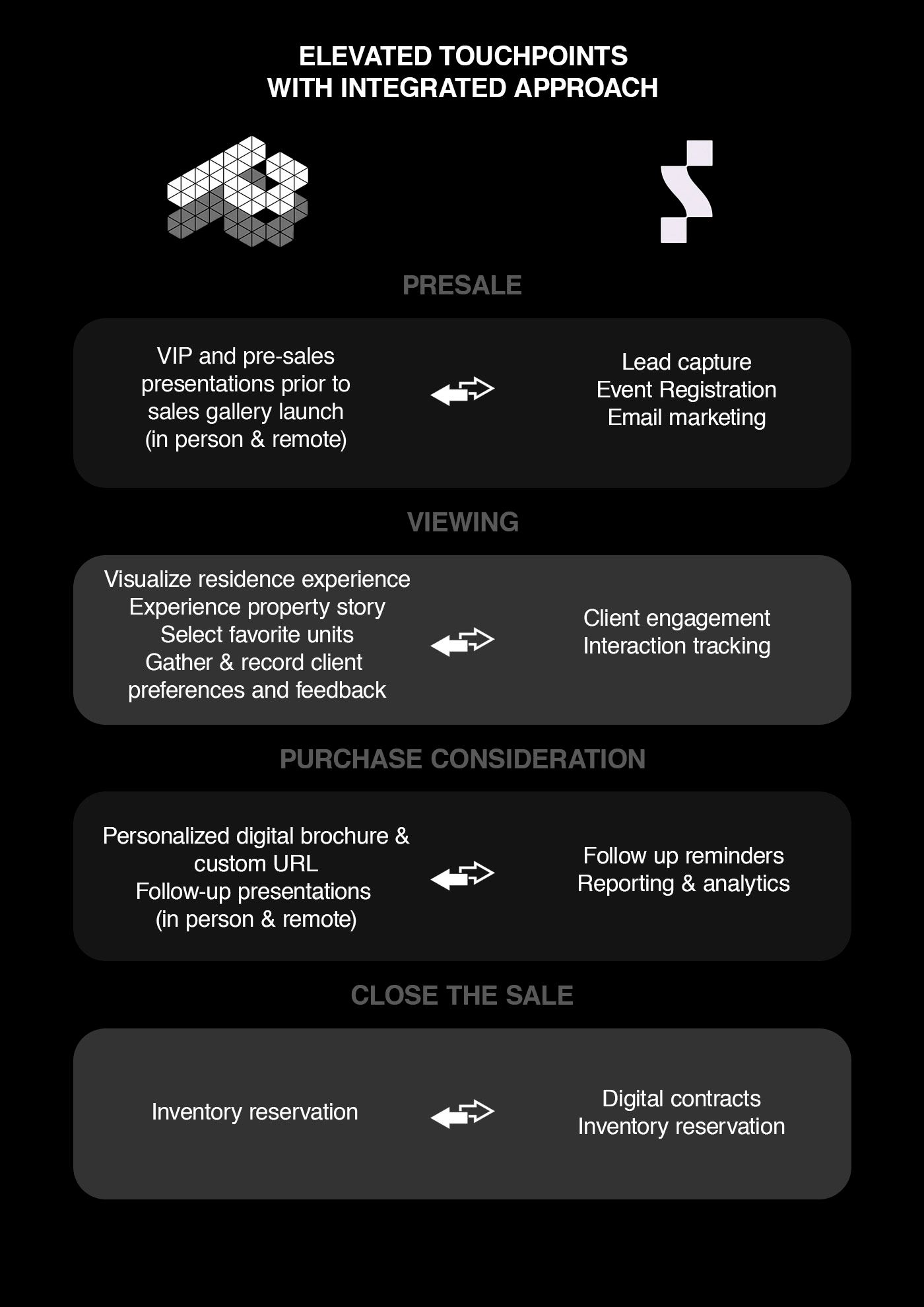 ---
To learn more about how your team can integrate these tools into your upcoming project, email us at sales@spark.re or submit a demo request in the link below!

---
Sources:
*Forbes Global Properties "Perspectives"