The Rise of Public Art in Private Development
Real Estate's Push Towards Public Art Installations In new development builds, art is no longer a nice-to-have. These are some of the standout new developments that have included public art as part of their community offering.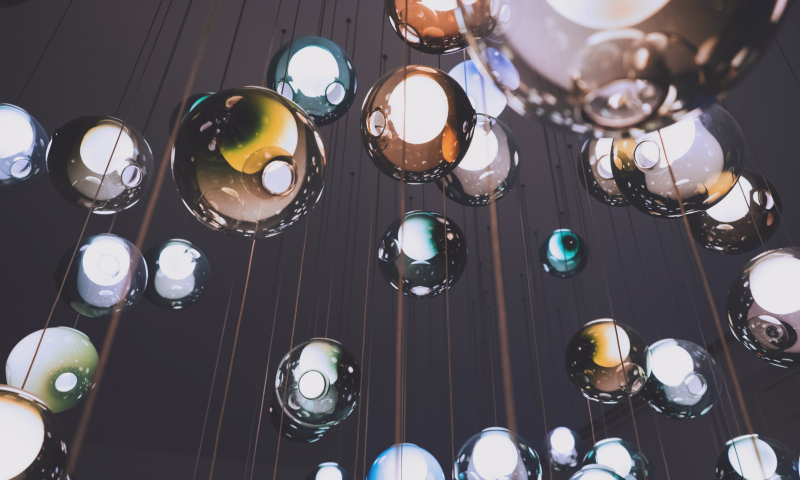 Real Estate's Push Towards Public Art Installations
In today's competitive new development real estate market, it's not enough to have a prime lot, big-name architect, or a multitude of amenity spaces. Developers must now include or commission statement bluechip installations of contemporary art in order to create a wow factor that attracts buyers. These buyers who are lured by the inclusion of bluechip art align themselves with the glitz of the art world or identify as collectors understand that this level of art represents the highest cultural value, monetary costs, and appreciation these high-quality works hold.
By including contemporary art, many developers have created standout attractions within their residential and commercial buildings that draw attention and resonate with certain demographics of new home purchasers. For these buildings, this art-focus has an added impact on buyers because of the lended alliance for each business or person who ends up housed in the development.
In new development builds, art is no longer a nice-to-have. Art is an investment on the part of developers, becoming a crucial part of the deal and creating significant weight for buyers when making a purchasing decision.
-
56 Leonard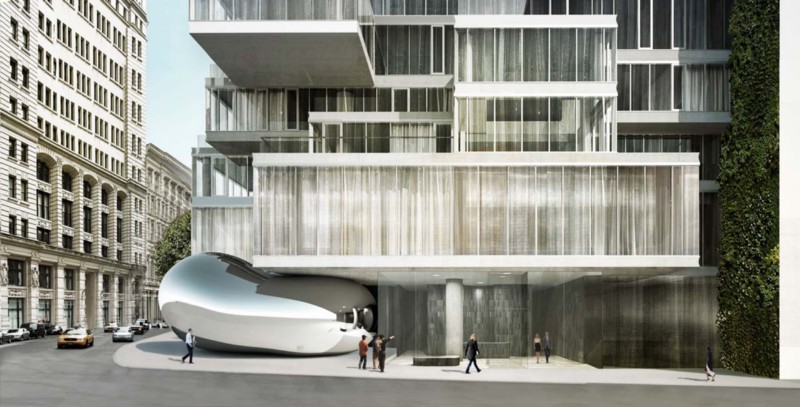 This Herzog & de Meuron designed condo building co-developed by Alexico Group and Hines, seamlessly integrates a 20-ft-tall, 40-ton polished stainless steel sculpture by artist Anish Kapoor. Kapoor is best known in the US for Chicago's iconic "Cloud Walk", or as it is called by locals, The Bean.
The sculpture commissioned specifically for 56 Leonard will be squeezed between the sidewalk and the overhanging second floor, drawing eyes from street level up towards the tower and synergizing the connection between Art and architecture.
Commissioning an artwork of this caliber does not come cheap, but for these developers, the cultural value add is part of the business of designing livable products that resonate with buyers. To this effect, Kapoor's relationship with the building goes beyond the inclusion of his sculpture: the artist has also recently purchased an apartment in the building.
---
SKY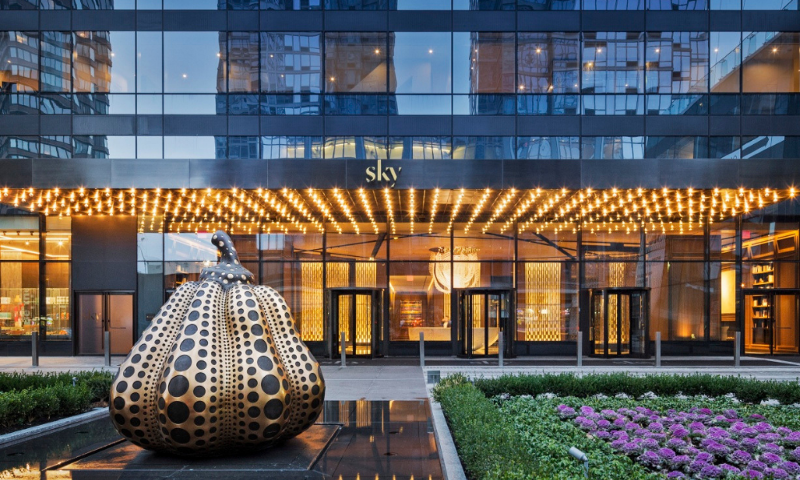 The developers of this massive rental building by Moinian Group — with 1175 individual units in total — not only created a street level 10,000 square foot space specifically for temporary exhibitions, they also invested in several bluechip pieces of artwork to be placed throughout the public areas, including an iconic pumpkin sculpture by Yayoi Kusama and works by Sol LeWitt and Gunther Forg.
Developers who invest in art believe that great art can help make an already distinctive building an enduring one, lasting against rapid development and urbanization. The Kusama works at SKY include one of her famed bronze polka-dot Pumpkin sculptures, which have sold for as much as $450,000, along with two of her white infinity net paintings which are to be hung the public areas of the building. By choosing work from an artist who carries significant critical heft, Moinian Group has established itself and the building as a cultural heavyweight.
Shaun Osher, CEO of SKY's exclusive brokerage, CORE NYC, routinely advises developers on how to invest in art for lobby areas and public spaces, stating "it's a tone-setter and the first impression." With impressive, public facing pieces on display and in the forefront, developers can immediately create a sense of modernity, style, and arts appreciation from the get-go, and for a relatively low cost when compared to the cost of building in New York City.
---
42 Crosby Street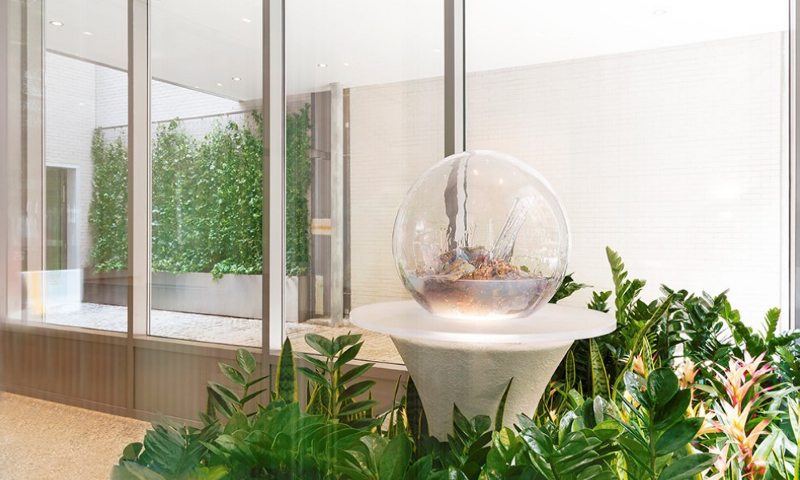 Designed by Selldorf Architects, a favourite of top gallerists around the world, 42 Crosby features two terrarium-like front windows at street level. These windows, by artist Paula Hayes, were commissioned by developer Atlas Capital Group and sales and marketing agency Douglas Elliman both as an art installation for passersby, but also to act as a buffer for residents who might want some quiet from the street.
Art commissions such as this signify quality, not only pointing to the good taste of the developer, but the care that was put in arranging eye-catching pieces of art in the lobby. With such attention to detail, a buyer can safely assume that the same level of care was put into the rest of the building.
-
Vista Tower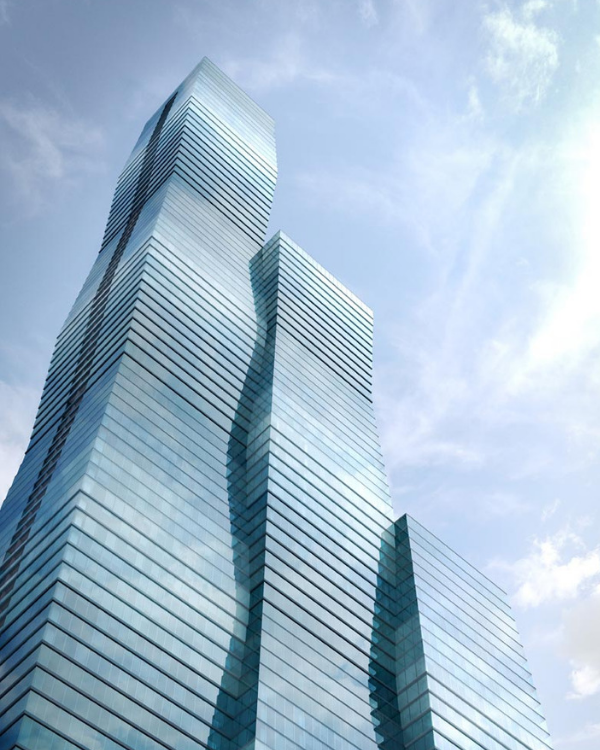 In its marketing, Magellan Development Group utilized not only an art-forward approach within their new building Vista Tower, but also aligned themselves directly with the art world by setting up a booth at EXPO Chicago, the city's annual contemporary art fair, as a way to garner interest. The company recognized that the fair's attendees, many of whom identify as art collectors, would not only find value in the art housed within the building, but that their building would appeal to them as prospective homeowners.
In this instance, art is an integral part of the marketing and sales package, not only in attracting luxury buyers and potential prospects who are looking for thoughtfully executed homes into their showrooms, but bringing those showrooms to them.
---
363 Bond Street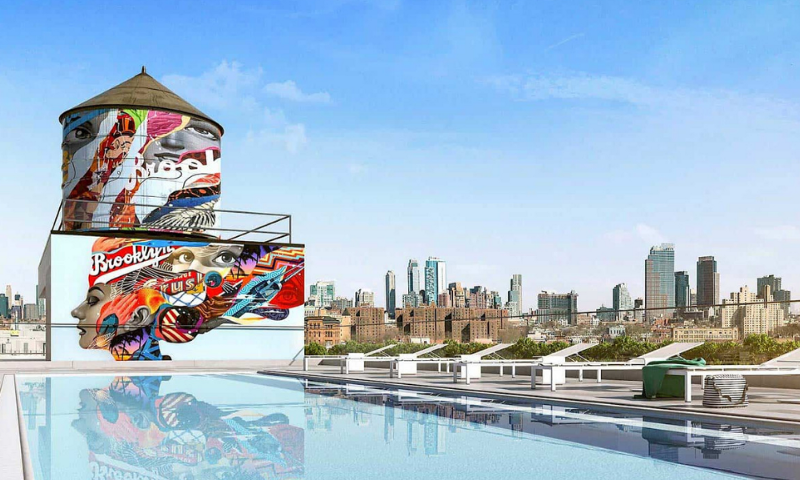 The art included in new developments becomes part of the whole package and in some cases, developers use statement commissions and installations to pique the curiosity of passersby and potentially pull them into the showroom.
Douglas Elliman commissioned street artist Tristan Easton to create a mural on the water tower of their building 33 Bond Street's roof. The piece, titled Brooklyn Crush can been seen from all vantage points in the neighbourhood and brings a"hip factor," to their building that further leverages value through the artists rising star power.
Developers who include art in their new developments do so strategically; not only raising the value of their buildings through blue chip investment and drawing the attention of culturally minded homebuyers, but also by creating talking points around up and coming artists and surprising commission pieces.
---
Terra Group
In the category of developers who utilize art in their new developments, Terra Group deserves a special mention as they work to include significant artworks in every one of its projects.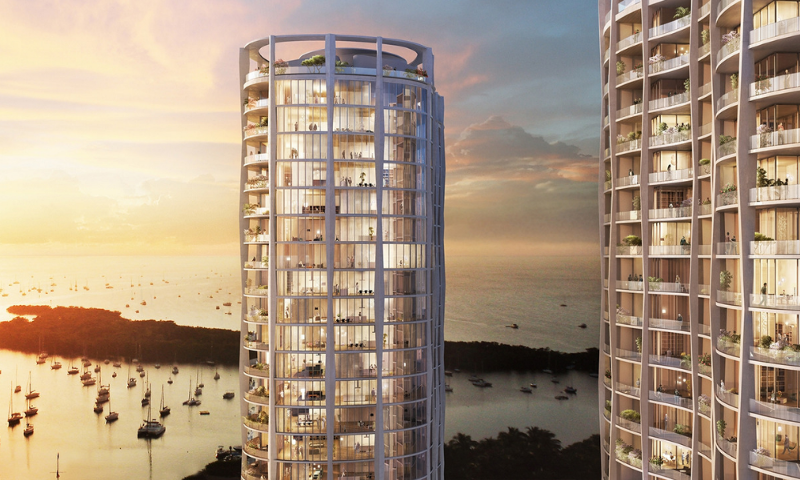 Park Grove in Miami markets art as a cornerstone of the living experience in the building. A significant number of pieces were purchased specifically for the development, including the $1 million Jaume Splenda piece titled The Poets in Bordeaux (Body Soul God, Country, Water Fire): three illuminated resin sculptures sitting atop 35 foot poles. The building also features an active art component, which includes curated talks, and a rotating exhibition of the personal collections of the building's residents.
Further, Terra Group has invested in and created an "art club", consisting of programming exhibitions, assistance for people buying and selling pieces, arts education, and personalized art services including complimentary climate controlled art storage on site. With the inclusion of these supportive art services available for residents, Terra Group recognizes that art appeals to potential buyers beyond the uber art-savvy as an indicator of a quality development.
---
In new development, art is no longer a 'bonus', but a part of the creation of a meaningful public space that contributes to the culture of the community. Bluechip installations are a very profitably monetary and cultural investment that illustrate the type of lifestyle that the building can impart on its residents.
Developers like Terra Group incorporate art into all of its buildings, and some, such as The Related Group, go as far as to employ full-time curators to select art for its properties. By cultivating high-quality art, these organizations and developers are raising the perceived aesthetic value of their buildings and allowing buyers to feel like part-owners of a curated collection, while also creating an opportunity to catch the attention of passersby, pulling them off the street and into the salesroom.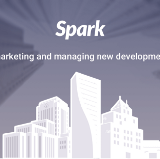 If you enjoyed this article, remember to leave some applause!