Canada's leading mass timber developer discusses how selling the product has changed since the beginning.
Adera's SVP of Sales and Marketing describes their experience using this innovative construction method
Vancouver based Adera Development Corporation is one of the leading developers of mass timber construction in North America. In fact, the company is so committed to the material that they have developed their own proprietary system of using mass timber in their residential homes, registered as SmartWood®, and relies on CLT (cross laminated timber) panels as their primary material for construction.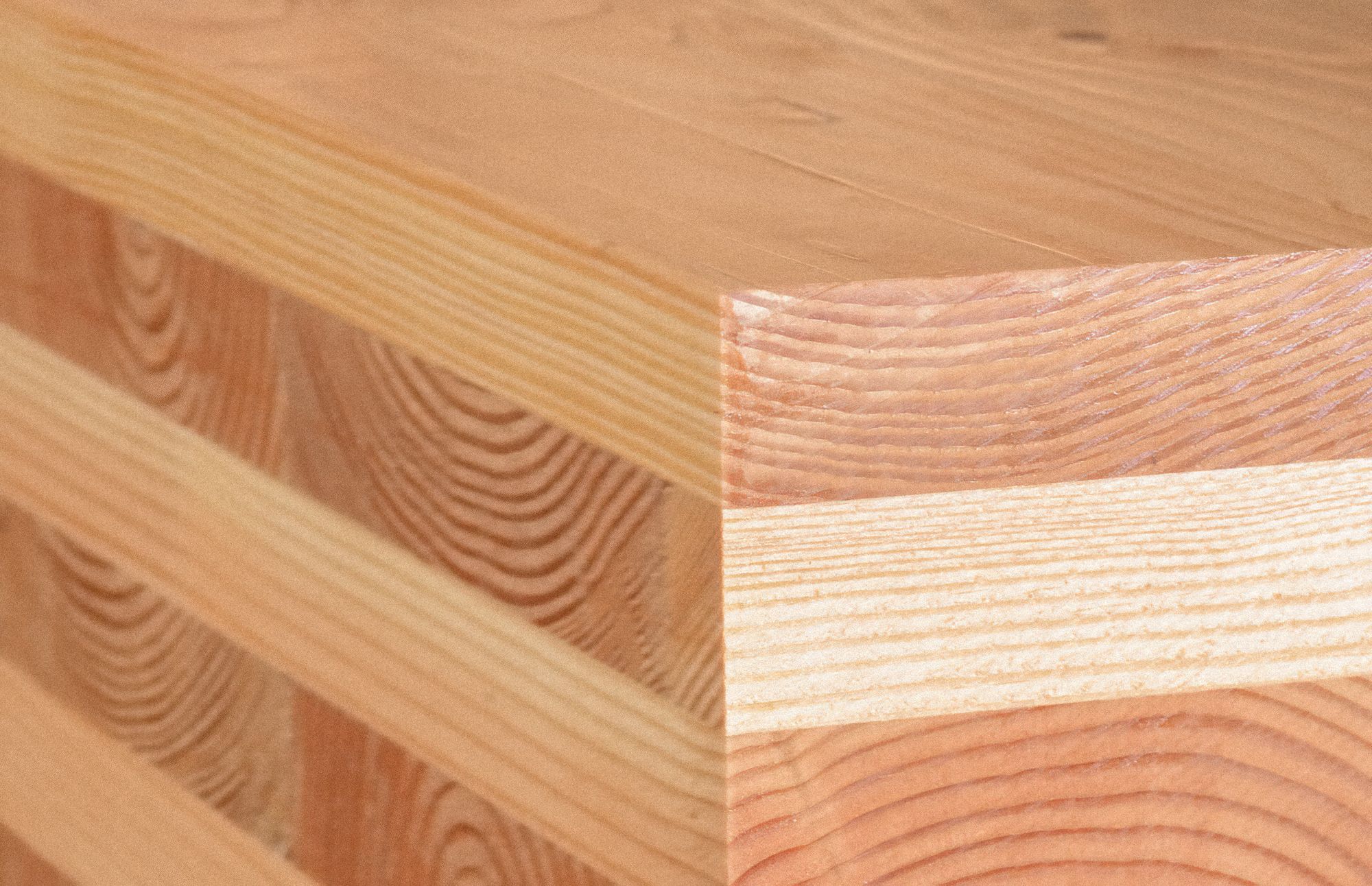 Spark has been Adera's Sales and Marketing platform since they began building with mass timber and we recently sat down with Eric Andreasen, SVP Marketing and Sales, to discuss the company's first hand experience with the product as well as how the market is responding to this innovative building method.
"The goal was to build something as, if not more, competitive, durable and sustainable than concrete while maintaining the luxurious feeling of sanctuary that is the trademark of an Adera home."
What is Mass Timber?
Mass timber is a broad term that encompasses wood products of various sizes and functions, such as glue-laminated beams, nail-laminated timber, laminated veneer lumber, dowel-laminated timber, and the most common form, cross-laminated timber (CLT).
The inception of CLT has opened up new architectural possibilities, allowing buildings to be constructed faster, with lower labour costs and less environmental impact.
A CLT panel consists of several layers of kiln-dried lumber boards stacked in alternating directions, bonded with structural adhesives and pressed to form a solid panel. Oriented at right angles, the panels deliver incredible structural rigidity in both directions and can be used as an alternative to concrete to form the walls, roofs, floors and ceilings of a building.
Particularly well suited to multi-storey buildings, CLT is naturally fire resistant (in the event of a fire, the panels will char on the outside forming a protective layer while retaining strength), is five times lighter than concrete and can be prefabricated off site and installed in a shorter time, in any season of the year.
---
Seeing is Believing
When it comes to selling a pioneering product, customer education is a crucial first step in driving interest. Adera found that even though mass timber construction was compelling in discussions and on paper, the overwhelming reality of mass timber performance is best witnessed personally when you step into a mass timber building and experience the sight, sound (or lack thereof) and feeling for yourself.
"I remember touring our first mass timber building under construction, stepping out onto the CLT floor plate and thinking 'Wow! This feels like a concrete building.' It was a noticeable difference," Eric told us.
Adera capitalized on this experiential power by fully incorporating it into their sales strategy. "In one of our developments, we built a SmartWood® room right next to a traditionally framed room so that people could walk in and experience personally for themselves the sight, sound and feel of a CLT unit. These rooms have become our most effective sales tool educating customers on this product."
Construction Experience
Brock Commons is an 18-storey, 404-bed student residence at the University of British Columbia and is arguably Canada's most famous case study of the benefits of mass timber construction. Assembling the mass timber structure and building envelope was completed in only 3 months (2 months ahead of schedule) and the crew was remarkably productive in completing a high square footage per labour hour.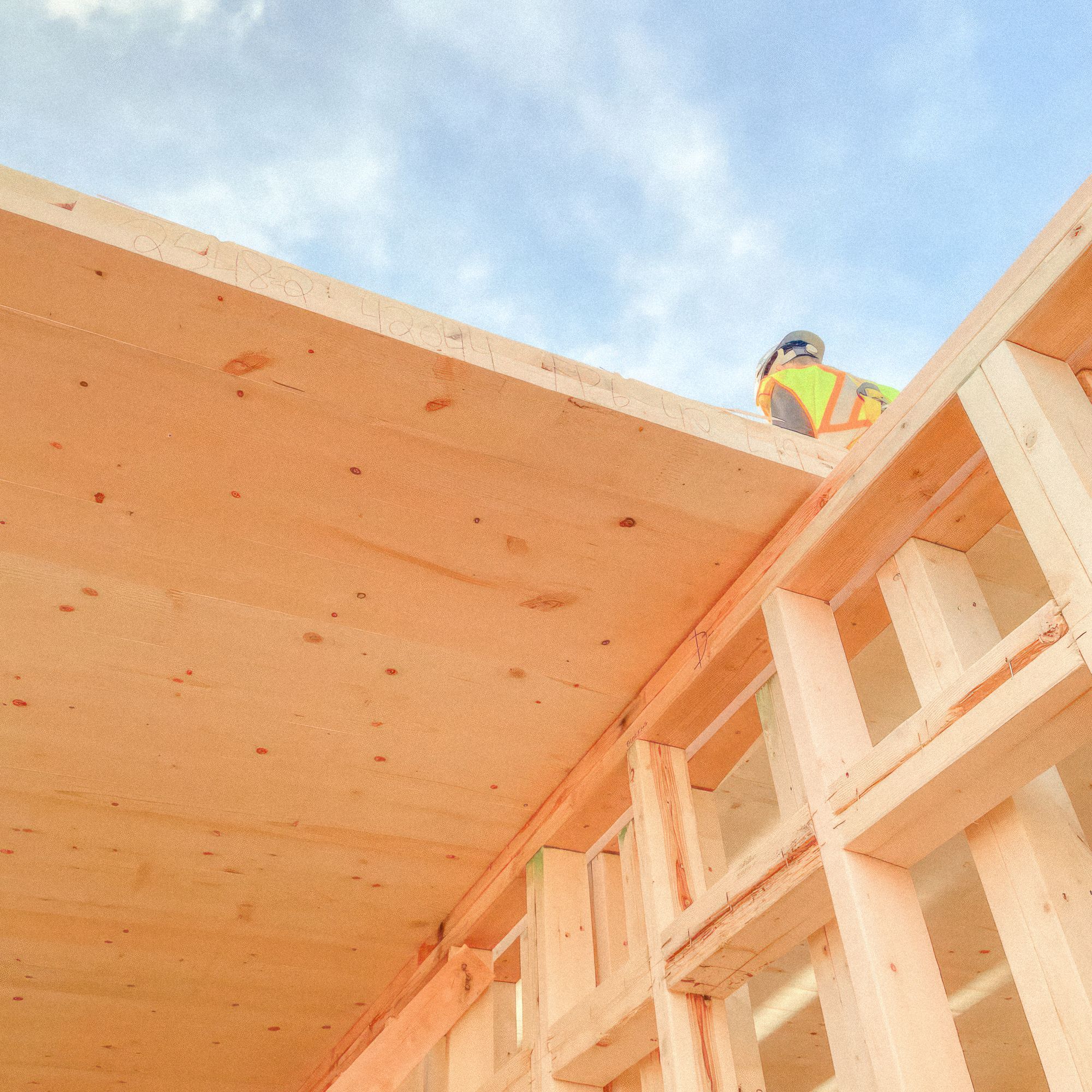 Mass timber uses computer modeling, temperature-controlled rooms and CNC precision cutting to fabricate the component parts for a building offsite within millimeter precision tolerances.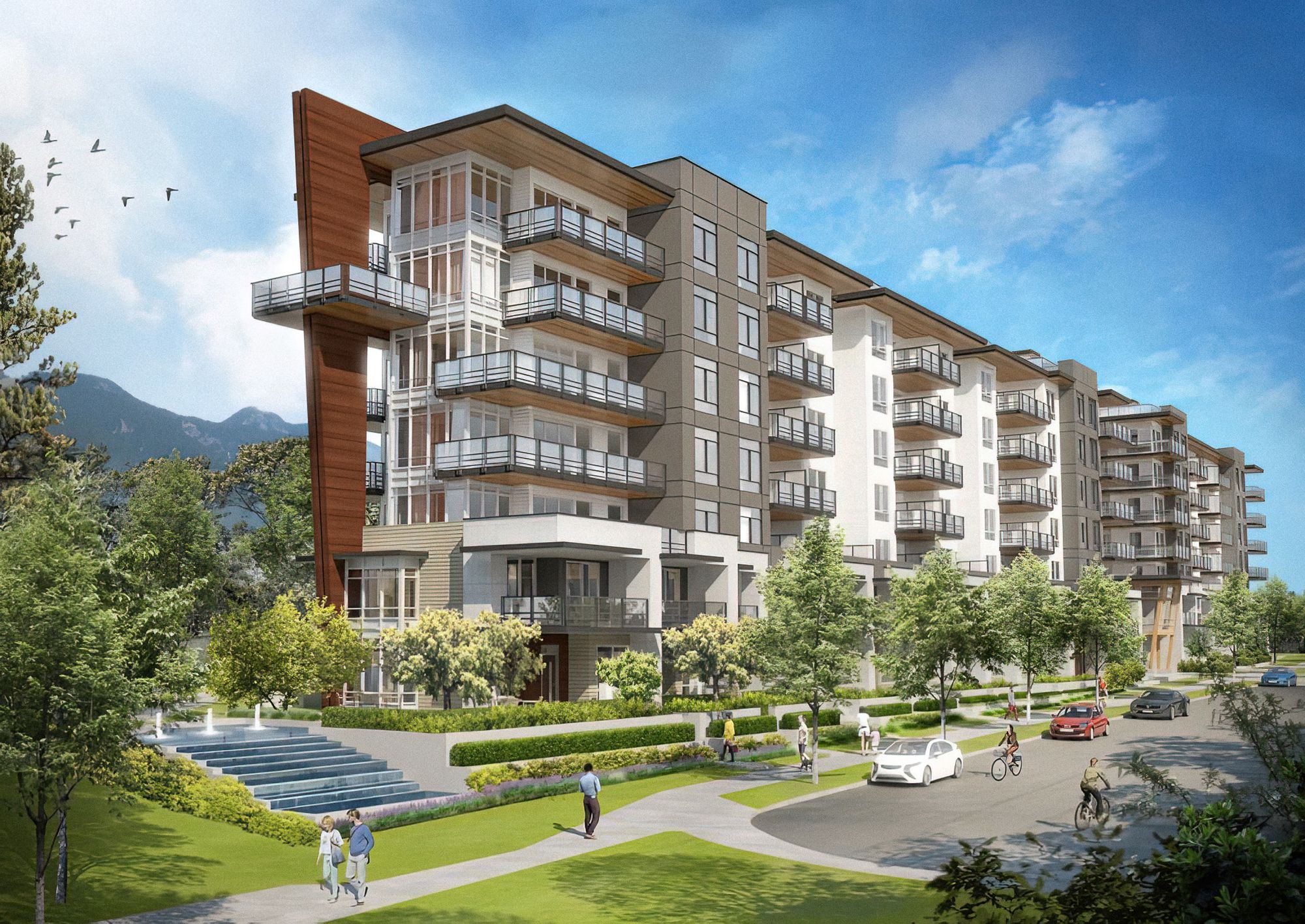 This process means that much of the construction work takes place at the factory instead of on site, which is often in the middle of a densely populated urban area. It also means that on-site assembly requires a fraction of the time of other construction techniques.
Eric shared, "At Crest, we only received one public complaint during construction and that was because a crane operator forgot to turn his light off one night. The total noise, traffic and pedestrian disruption was incredibly minimized."
Sustainability Advantage
SmartWood® and other mass timber products are harvested sustainably from regenerative forests. Timber also has the benefit of storing carbon internally for its lifetime compared to cement which produces carbon as a byproduct of the manufacturing process. Many studies have detailed the negative climate impacts of concrete construction in the residential sector.
"Our planet is already under enough stress environmentally. The performance of modern housing, its availability to growing population, and its effect on more macro communities is ever increasing. We believe that we, as a society, need to be more reflective and respectful about providing people with a better way of living," said Eric.
Mass timber still requires concrete for a limited number of construction elements, such as the building's foundation, but it uses a smaller amount compared with a full-concrete building of equal size due to the weight of the structure. The lower mass of the material sometimes means less cement is required for the foundation and also allows the possibility for building on brownfields not suitable for heavy concrete construction.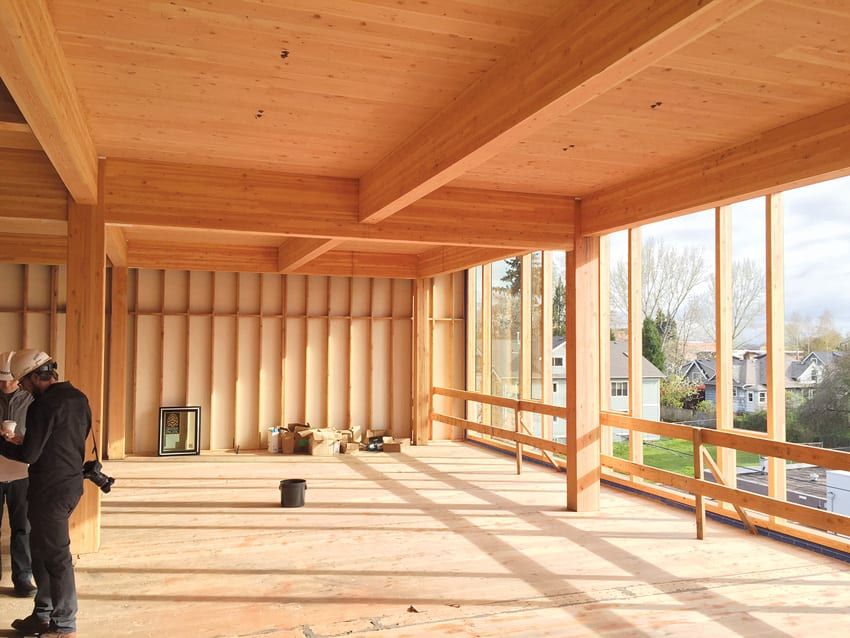 To drive this point home, Canada is in the process of introducing Embodied Carbon Legislation that will scrutinize the holistic carbon impact of construction projects and incentivize and penalize builders accordingly. Mass timber and other sustainable construction practices are likely to become much more economically attractive as Embodied Carbon and other legislation that consider the holistic impact of a project are introduced.
So What do Customers Think About Mass Timber?
In North America, the common perception has been that concrete was a superior building material to wood in terms of noise insulation, strength, and fire resistance.
"Noise complaints went to zero. Some people said they could hear the water fountain out front for the first time. This quickly went into the marketing materials," Eric told us.
Studies have shown that the acoustic properties of mass timber can reduce airborne and contact noise on par with concrete construction and far superior to traditional wood frame construction.
Family oriented customers especially appreciated the fire resistance, seismic stability and thermal insulation of the new product.
"Visually, it is a gorgeous material to work with that highlights the colour, warmth and texture of Canadian lumber.
Adera has found that customers are willing to pay a bit of a premium for mass timber residences over traditional wood frame construction.

Adera's Future Plans for Mass Timber
Adera has two SmartWood® developments under construction - Sōl, and Pura. Both are equipped with "Quiethome™ rooms" to allow customers to experience the difference for themselves.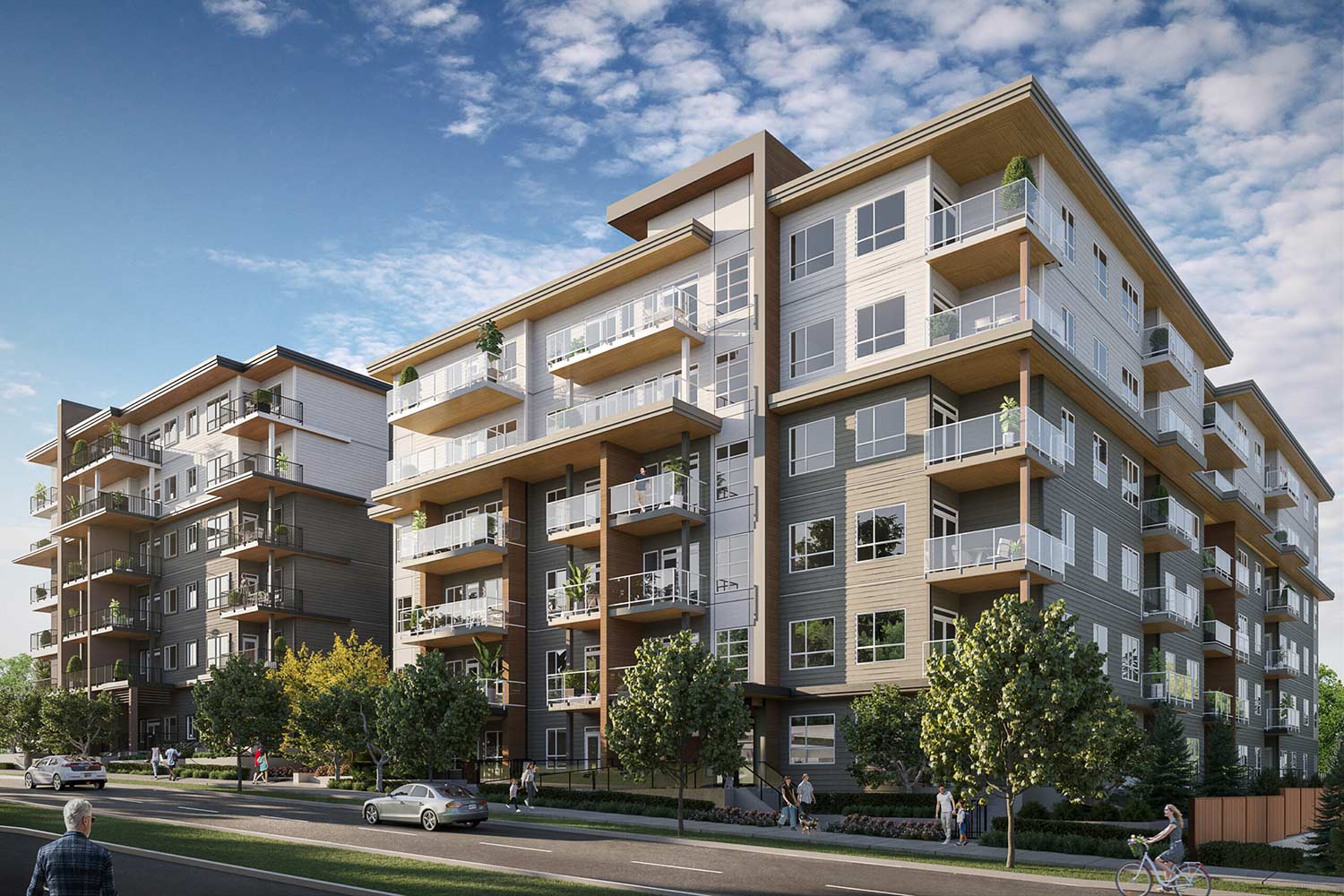 Moving forward, Adera's goal is to be able to build taller Smartwood developments in the near future.
"The recently updated code now allows a maximum of 12-storey wood buildings. In reality a mass timber building could be much taller but  our approving authorities will again have to mandate a change to code."
Customer awareness and desire for mass timber continues to grow year by year. "When you compound that with increasing familiarity across all stages of development including construction, government, suppliers, architecture and sales - we are in a much different place today than when we started our first mass timber project Virtuoso in 2015."
---